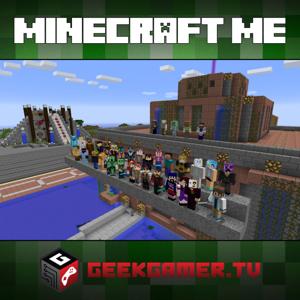 So back in Episode 52 we showed you how to create an efficient redstone switch, but with new updates, it's time revisit it!  We also reveal the next Server Challenge, have a Pack Pick, talk about the latest Minecraft News AND take your questions!  All this and more on this edition of Minecraft Me!
Show notes and episode page here: http://ggtv.me/mm156
Please RATE, FOLLOW and SUBSCRIBE!
Support Minecraft Me on Patreon! http://patreon.com/minecraft
YouTube:  http://youtube.com/GeekGamerNetwork
Dailymotion:  http://dailymotion.com/GeekGamerTV
Twitter:  http://twitter.com/GeekGamerTV
Facebook:  http://www.facebook.com/geekgamertv
Google+:  http://plus.google.com/+GeekGamerTV
Steam:  http://steamcommunity.com/groups/geekgamertv
Hosts: Chase Nunes, Joseph Falbey
Minecraft can be found at: http://www.minecraft.net
 
Support the show on Patreon and become one…TODAY!
GeekGamer.TV Updates via E-Mail: Subscribe to GeekGamer.TV by Email
Like our Facebook Fan Page, Join our Facebook Group, Steam Gaming Group and also follow us on Twitter!
Connect with us!
Minecraft News:
Soon You Can Play as the Simpsons in Minecraft for Xbox
http://www.wired.com/2015/01/xbox-simpsons-minecraft/
Antarctica in Minecraft.
http://www.wired.co.uk/news/archive/2015-01/15/minecraft-antarctica
Functional word processor built in Minecraft
http://www.geek.com/games/functional-word-processor-built-in-minecraft-1613216/
Announcing Minecraft name changes
https://mojang.com/2015/01/announcing-minecraft-name-changes/
Pack Pick:
R3D.CRAFT: Smooth Realism [128x]
http://www.curse.com/texture-packs/minecraft/r3d-craft-smooth-realism-128x
Server Challenge!
This challenge is due by January 30th at 12 Midnight Pacific Time (3am Jan 31st Eastern).
Build a Football Field!  *Bonus points for including Seattle or New England Teams!