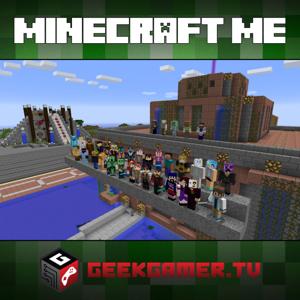 We challenged you to come up with an awesome Rollercoaster Creation in Minecraft and YOU DELIVERED!  We show them off this week! We also cover the Minecraft News of the Week, show off a NEW Server Showcase of the Weeek, let you know when the try to do the next Patreon Games are and take your questions! All this and more, coming up this week!
Show notes and episode page here: http://ggtv.me/mm191
Please RATE, FOLLOW and SUBSCRIBE!
Support Minecraft Me on Patreon! http://patreon.com/minecraft
Server Information: http://geekgamer.tv/mcserverinfo
YouTube: http://youtube.com/GeekGamerTV
Dailymotion: http://dailymotion.com/GeekGamerTV
Twitter: http://twitter.com/GeekGamerTV
Facebook: http://www.facebook.com/geekgamertv
Google+: http://plus.google.com/+GeekGamerTV
Steam: http://steamcommunity.com/groups/geekgamertv
Hosts: Chase Nunes, Joseph Falbey
Minecraft can be found at: http://www.minecraft.net
Support the show on Patreon and become one…TODAY!
GeekGamer.TV Updates via E-Mail: Subscribe to GeekGamer.TV by Email
Like our Facebook Fan Page, Join our Facebook Group, Steam Gaming Group and also follow us on Twitter!
Connect with us!
Minecraft News of the Week
New Realms Maps!
http://www.mojang.com/2016/02/new-realms-content-post/
Minecraft Hotwheels
http://toyland.gizmodo.com/the-first-minecraft-hot-wheels-car-is-not-surprisingly-1759213516
New Minecraft Logo Sets
http://www.ign.com/articles/2016/02/13/new-lego-minecraft-sets-revealed
New MINECHEST?!
http://ggtv.me/minechest   Affilate Link!  Please support us!
http://www.mojang.com/2016/02/bring-minecraft-into-your-world-with-mine-chest/
Let's Play Minecraft:
Reveal of the Rollercoaster Challenge!
skytraveler2012