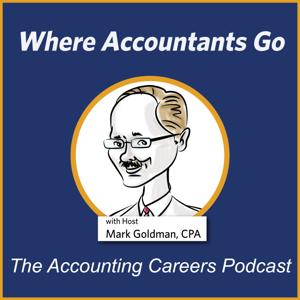 Ron Baker, Founder of the Verasage Institute and one of my absolute favorite podcast hosts, joined us for this episode of Where Accountants Go, The Accounting Careers Podcast.
If you haven't heard The Soul Of Enterprise podcast, you are missing out.  Ron Baker co-hosts the program with another brilliant thinker, Ed Kless, and provides some of the most thought-provoking content I have ever experienced.  It's quite literally one of my favorite two podcasts.
Ron started his career in public accounting, moved into industry, and then founded his own accounting firm.  It was during those early years that he began to severely dislike the concept of the billable hour and timesheets in public accounting.  That disdain for the billable hour led him to write a book, the first of many actually, and that launched his eventual consulting career working with firms to make the profession better.  He now devotes his full-time efforts to pricing strategy and related topics.  The organization he founded, the Verasage Institute, is a think-tank formed for exactly the purpose of reaching the tipping-point where the billable hour will become just a footnote in the history books.  And what's interesting, is that it looks like we are there.  There definitely have been a large number of firms that have moved away from the billable-hour concept, and it appears that its eventual death is becoming a certainty.
If you like a story of finding your passion, and devoting your efforts to making a difference in the world, you will love this episode.
Make sure to check out the links above in the shownotes as well for Ron's own podcast, as well as some of his books.
To listen in on this interview with Ron Baker, please use the player below: