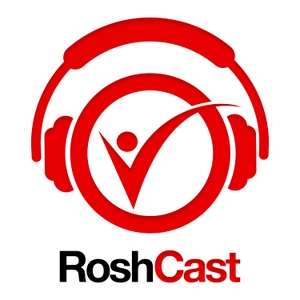 There are two ways of spreading light: to be the candle or the mirror that reflects it.-Edith Wharton
Welcome back to Episode 26! Remember to listen for a trauma ring tone and if you hear one send us the time via email or tweet us @Roshcast with the time you hear it. This week, we start out with a brief ultrasound review and then get into some ophthalmology, ID, and toxicology. We will discuss a challenging cyanide toxicity question thanks to a suggestion from one of our listeners. Hope you enjoy it!
* Lung sliding on bedside ultrasound is a normal finding. Absence of lung sliding is indicative of a pneumothorax.* A lines are a normal finding on lung ultrasound. They are horizontal lines that are reflections of the pleura. B lines are concerning for pulmonary edema and appear as "vertical headlights" throughout the thorax.* Any pregnant patient with lower abdominal pain or vaginal bleeding who doesn't already have a confirmed intrauterine pregnancy requires a pelvic ultrasound to rule out an ectopic pregnancy.
Now onto this week's podcast.
Question 1
A 72-year-old man complains of decreased painless vision in his left eye associated with flashing lights and floaters. Visual acuity in the left eye is 20/200 and in the right eye is 20/30. Which of the following is the most likely diagnosis?
A. Acute angle-closure glaucoma
B. Optic neuritis
C. Retinal detachment
D. Temporal arteritis
Teaching Image
Question 2
What is the most common causative organism of meningitis in a 1-week-old child?
A. Group B streptococci
B. Haemophilus influenzae
C. Listeria monocytogenes
D. Staphylococcus aureus
Teaching Image
Question 3
A 17-year-old man presents to the ED 30 minutes after intentionally ingesting an unknown amount of drain cleaner. The active ingredient is sodium hydroxide; the pH of the product is 13. Upon arrival, the patient is afebrile, heart rate is 120 beats per minute, blood pressure 130/70 mm Hg, respirations 22 breaths per minute, and oxygen saturation 97% on room air. He appears uncomfortable and reports chest discomfort. There are superficial burns of the oral mucosa and inflammation in the posterior oropharynx, but he is in no respiratory distress. Which of the following is true regarding this patient's care?
A. Activated charcoal should be administered because the patient presented within an hour of ingestion
B. Dilution with milk or water may be performed
C. Gastric lavage should be performed to prevent systemic toxicity
D. He should be kept NPO in preparation for endoscopy
E. Induction of vomiting with ipecac may be attempted
Teaching Image
Question 4
A 45-year-old man is rescued from a house fire. He was unresponsive at the scene and was intubated by paramedic...