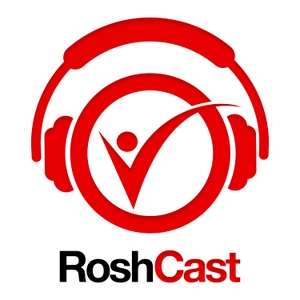 Believe you can and you're halfway there. -Theodore Roosevelt
Welcome back to Roshcast episode 38, the last episode of 2018! Before we jump into this week's episode, we have a few people to recognize. First, congrats to Zain who won the trauma ring tone challenge last episode and will be receiving a Rosh Review subscription. Special mention goes out as well to Clark, David, and Ryker who all responded soon after Zain. We should also recognize Sarah, who won the EM Clerkship-RoshCast crossover challenge and won a free copy of Case Files Emergency Medicine. Stay tuned for more contests to come! Let's head back to the Rosh Blog and start out with a recent Rapid Review.
* Central cord usually presents with sensory and motor deficits, with the upper extremities being affected more than the lower extremities. It's most commonly caused by an extension injury.* Anterior cord syndrome presents with complete loss of motor, pain, and temperature below the level of the injury, but you would retain proprioception and vibration sensation. Anterior cord is most often caused by a flexion or vascular injury.* Brown Sequard classically occurs after penetrating trauma. It results in ipsilateral loss of motor, vibration, and proprioception with contralateral loss of pain and temperature.
Now onto this week's podcast
Question 1
A 3-day-old girl presents with decreased feeding and is found to be limp and minimally responsive. After intubation, at what rate should breaths be delivered?
A. 10–16 per minute
B. 20–30 per minute
C. 40–60 per minute
D. 70–80 per minute
Teaching Image 
Question 2
In a malnourished patient, which of the following sources of megaloblastic anemia is expected to develop first?
A. Folic acid deficiency
B. Hypothyroidism
C. Liver disease
D. Vitamin B12 deficiency
Teaching Image 
Question 3
What medication should be first-line treatment in moderate musculoskeletal back pain?
A. Acetaminophen
B. Cyclobenzaprine
C. Diazepam
D. Oxycodone
Question 4
An 18-year-old man presents to the ED with a 4 cm laceration to the right side of his chin. Which of the following nerve blocks is most appropriate?
A. A mental nerve block
B. A posterior superior alveolar nerve block
C. A stellate ganglion block
D. An apical nerve block
<a href="https://www.roshreview.