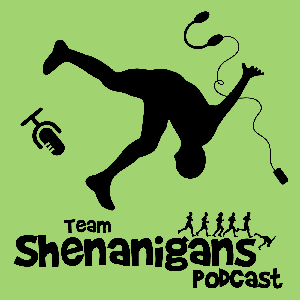 In this episode we run down some running news stories we found interesting, read a listener email about the podcast, share Jeff Reed's Top Ten Reasons we're ending the Team Shenanigans Podcast (we refer to him consistently as Kent Reed, which to be fair, is a much cooler sounding name and he should just change it) and we get into an in-depth discussion of pee and the Go Girl.
Just a couple more weeks until our Live Finale. We hope you'll join us Sunday, August 19th at 7pm. Visit https://teamshenanigans.org/finalshow for details.
Please??SUBSCRIBE, RATE and REVIEW??the podcast on iTunes.
It helps improve our ranking in search results, which means more people will have the opportunity to learn about the joy of running with friends and putting fun in your run.
We want to hear from you! Please [email protected]??on Twitter and??https://www.facebook.com/TeamShenanigansRunning??on Facebook and let us know what you think of the show.