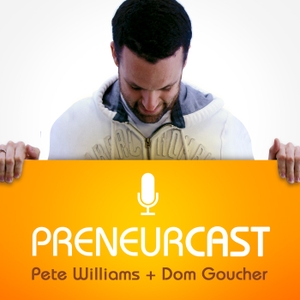 Perry Marshall, Adwords Expert and Author of "80/20 Sales and Marketing" talks to Pete about the 80/20 principle, how it can be applied to every part of a business, and why people often stop applying it too soon and miss out on the biggest wins.
-= 7 Levers Report =-
http://7leversreport.com - Find out more about the 7 Levers of business
-= Links =-
- Online
http://www.perrymarshall.com - Perry's Site
http://www.sell8020.com - Direct link to the "Shipping Only" book offer.
http://8020curve.com - 80/20 Online calculator tool
- Books
You can try out a lot of the books we recommend in audio format with Audible:
http://audibletrial.com/preneurcast - Free trial with a free audio book download for PreneurCast listeners
- Previous PreneurCast Episodes
All previous episodes are available over at http://preneurmarketing.com along with show notes, links and full transcripts of each episode.
-=-
For more information about Pete and Dom, visit us online at http://preneurmarketing.com or drop us a line at: [email protected]
If you like what we're doing, please leave us a review on iTunes or a comment on the Web Site at http://preneurmarketing.com