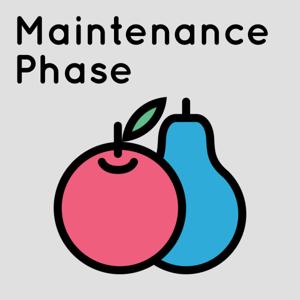 School Lunches, P-Hacking and the Original "Pizzagate"
07.20.2021 - By Maintenance Phase
This week we're diving into one of the biggest-ever scandals in nutrition research. For nearly two decades, Brian Wansink's Food and Brand Lab told Americans that lower weights, healthier workplaces and better school lunches were just a few small tweaks away. Then, in 2015, he wrote a blog post and it all came crashing down. 
Support us:Hear bonus episodes on PatreonDonate on PayPalGet Maintenance Phase T-shirts, stickers, face masks and moreLinks!A Credibility Crisis in Food ScienceStatistical heartburn: An attempt to digest four pizza publications from the Cornell Food and Brand LabBrian Wansink: Data Masseur, Media Villain, Emblem of a Thornier ProblemThe Wansink Dossier: An OverviewMore Evidence That Nutrition Studies Don't Always Add UpHere's How Cornell Scientist Brian Wansink Turned Shoddy Data Into Viral Studies About How We EatFalse-Positive Psychology: Undisclosed Flexibility in Data Collection and Analysis Allows Presenting Anything as SignificantDeath of a Veggie SalesmanThe Strange, Uplifting Tale of "Joy of Cooking" Versus the Food ScientistMoms, "Food Fears" and the Power of the InternetThe science behind Smarter LunchroomsYou Can't Trust What You Read About NutritionEnergy balance measurement: when something is not better than nothingScientific method: Statistical errorsEffect of the Healthy Hunger-Free Kids Act on the Nutritional Quality of Meals Selected by Students and School Lunch Participation Rates9.67 Degrees of DeceptionSupport the show (https://www.patreon.com/maintenancephase)