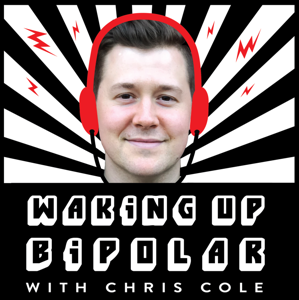 In this episode of Waking Up Bipolar, Chris Cole speaks with Sean Blackwell—YouTube sensation, author, retreat facilitator, and spiritual messenger. Since 2007, Sean Blackwell has been researching and teaching about the spiritual dimension and healing potential of bipolar disorder, through his YouTube channel, bipolarORwakingUP. His videos graphically illustrate subjects such as spiritual emergency, transpersonal psychology, and the evolution of consciousness, always demonstrating how these themes relate to transcending the bipolar condition.
His book, "Am I Bipolar or Waking Up?" describes his own "bipolar awakening", subsequent hospitalization and complete recovery, which happened in 1996. His latest project, The Bipolar Awakenings Healing Retreat, is designed to help people who are currently medicated work through the subconscious, bio-energetic material which he views as the root of their disorder. In September of 2016, Sean received his certification as a Holotropic Breathwork facilitator with Grof Transpersonal Training, the official training program of Dr. Stanislav Grof. This education has been fundamental to the development of the healing retreat process he facilitates.
As you'll hear in our conversation, Sean Blackwell has a radical vision for healing what we think of as bipolar disorder and spiritual emergency. And yet, holding such a radical vision does not preclude him from accepting and navigating the many views and experiences of various bodies moving within these complex domains. I've always appreciated Sean's view of himself as a spiritual messenger, and he has certainly served to embolden me over the years.
Watch on YouTube: https://youtu.be/YXN511AoQFE
Watch on Facebook: https://www.facebook.com/wakingupbipolar/videos/2023878284527683/
Sean Blackwell's Website: https://www.bipolarawakenings.com/
JOIN THE DISCUSSION at https://www.facebook.com/groups/wakingupbipolar
Chris Cole hosts the Waking Up Bipolar podcast, focused on the intersection of bipolar disorder and spiritual awakening. He is the author of The Body of Chris: A Memoir of Obsession, Addiction, and Madness, inspired by his own journey of spiritual unfolding and mental health challenges. Chris Cole offers life coaching for any number of mental health conditions, specializing in bipolar disorder and spiritual emergence. Chris's experience with addiction, disordered eating, body dysmorphia, psychosis, and spiritual emergency allows him to relate to a wide range of clients. He utilizes a holistic approach to mental health which views wellness in physical, mental, emotional, social, and spiritual domains. Learn more about Chris and his work at colecoaching.com.
The Waking Up Bipolar podcast in now available on the following platforms:
Apple Podcasts | apple.wakingupbipolar.com
Google Play | google.wakingupbipolar.com
Stitcher | stitcher.wakingupbipolar.com
TuneIn | tunein.wakingupbipolar.com
wakingupbipolar.com