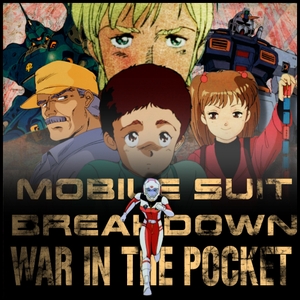 Show Notes
This week, we recap, review, and analyze Mobile Suit Zeta Gundam (機動戦士Ζガンダム) episode 21 - A Sign of Zeta (ゼータの鼓動), discuss our first impressions, and provide commentary and research on the possible inspiration for the Gabthlay and it's gun - the fedayeen, blood oaths in Japanese history, and Saint Miki.
- Fedayeen on Wikipedia.
- Painting of an Afghan warrior carrying a jezail ("juzzail" in the caption).
- Article about the jezail, with more photos.
- A Gadfly mech from Crusher Joe.
- Wikipedia article for Horse-fly.
- Instances of the gadfly in Greek myth.
- An English translation of Plato's "Apology of Socrates."
- About Ethel Voynich's novel, The Gadfly,, and the text on Project Gutenberg.
- Japanese Wikipedia page for keppanjou / けっぱんじょう / 血判状 (a compact or covenant, sealed with blood).
- Japanese and English Wikipedia pages on the Kumano shrines.
- Tourist information for Kumano.
- First-hand account of Tokugawa-era Japan, by German naturalist Engelbert Kaempfer (English translation):
Kempfer, Engelbert, and Beatrice M. Bodart-Bailey. Kaempfer's Japan: Tokugawa Culture Observed. University of Hawai'i Press, 1999.
- Wikipedia page for Engelbert Kaempfer (sometimes rendered Kempfer).
- Paper that discusses blood oaths in the master/disciple relationship (especially in martial arts):
Ozawa, Hiroshi. "Essence of Training (Keiko) in Japanese Culture: Technique (Waza) Acquirement and Secret of Kendo." Tokyo University of Science, Tokyo, 25 Jan. 2005.
- Japanese and English Wikipedia pages for the 血盟団事件 / "League of Blood Incident."
- Paper on the Buddhist concept of Samādhi and its use to justify violence in Imperial Japan (discusses the League of Blood Incident and the respected Zen Buddhist master Yamamoto Gempou who testified in support of the terrorists):
Victoria, Brian Daizen. "Samādhi Power in Imperial Japan." (2017).
- Saint Miki in English and Japanese Wikipedia, and the Wikipedia page for the 26 Martyrs of Japan.
- Saint Miki's saint-page on catholic.org, and a more detailed description of the torture and execution of the martyrs.
- Recounting of the San Felipe Incident.
- And a book that covers the period of missionary activity before the suppression of Christianity in Japan:
Boxer, Charles Randolph. The Christian Century in Japan: 1549-1650. U. of California Press (1951).
You can subscribe to the Mobile Suit Breakdown for free! on fine Podcast services everywhere and on YouTube, follow us on twitter @gundampodcast, check us out at gundampodcast.com, email your questions, comments, and complaints to [email protected]
Mobile Suit Breakdown wouldn't exist without the support of our fans and Patrons! You can join our Patreon to support the podcast and enjoy bonus episodes, extra out-takes, behind-the-scenes photo and video, MSB gear, and much more!
The intro music is WASP by Misha Dioxin, and the outro is Long Way Home by Spinning Ratio, both licensed under Creative Commons CC BY 4.0 license. Both have been edited for length.
Mobile Suit Breakdown provides critical commentary and is protected by the Fair Use clause of the United States Copyright law. Gundam content is copyright and/or trademark of Sunrise Inc., Bandai, Sotsu Agency, or its original creator. Mobile Suit Breakdown is in no way affiliated with or endorsed by Sunrise, Bandai, Sotsu, or any of their subsidiaries, employees, or associates and makes no claim to own Gundam or any of the copyrights or trademarks related to it.
Copyrighted content used in Mobile Suit Breakdown is used in accordance with the Fair Use clause of the United States Copyright law. Any queries should be directed to [email protected]
Find out more at http://gundampodcast.com