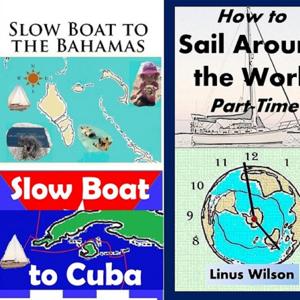 Get the Slow Boat Sailing Podcast on Stitcher and iTunes!
 
 
Your podcast host has been hard at work on his third book over the last couple months and is ready to share part of it with you. Slow Boat to Cuba does not go up for sale in print and Kindle versions until the end of November, but you can listen to the audiobook now. In this episode, we listen to the the first four of 19 chapters of the audiobook of Slow Boat to Cuba. 
 
You can get the full audiobook of Slow Boat to Cuba by pledging as little as $3 at
https://www.patreon.com/slowboatsailing
You can be part of sailing history and be thanked in the acknowledgement if you pledge at the Captain or Admiral Level on Patreon to support monthly podcasts and vlogs. 
 
In this book, the author wants to start his round the world trip by sailing to the Panama Canal before hurricane season. Unfortunately, a 50-year old embargo, wild currents, and adverse winds and waves stand in this American sailor's way. This is the story of how he overcame government road blocks and sailed offshore to the forbidden paradise of Cuba. He stops at the remote west coast and southern barrier islands fighting human and nautical obstacles to get a clear path to Panama.
 
You can watch the whole vlog series covering the material in the book on YouTube. The book is 3 hours and 30 minutes long and the vlog series Slow Boat to Cuba is only 40 minutes long. Thus, the movie version leaves out a lot of material from the book.
 
We start our "On the AIS" segment in this episode. We have some great mini-guests, who tell us in 30 seconds in their own words about their awesome sailing channel in their own words. When you see a boat on the AIS you are usually not close enough to touch them, but you may be close enough to hail them for a brief chat on the VHF. Our "On the AIS" guests are the creators of Coast Life.  Check out their great YouTube channel. I have recorded many great hour plus long conversations with awesome sailors like the creators of Chase the Story and Sailing Baby Blue but there are way more sailors than I can edit hour long interviews for that you should check out.
 
We have been giving away signed books when we hit key numbers on YouTube and Twitter. Our next book giveaway will be held after hitting 500 YouTube subscribers. To win the book you have to be YouTube subscriber who sends us their USA address by Facebook messenger before the drawing. 
 
Thanks for joining the voyage!  Check out my book How to Sail Around the World Part-Time, which is now available as an album on iTunes or Amazon. Links to my books are at my website. Buy How to Sail Around the World Part-Time or Slow Boat to the Bahamas at Amazon. Both books have been #1 bestsellers in the Amazon sailing eBook categories. (If you are a non-US Amazon customer, e-mail me at linuswilson outlook [dot] com, and I'll send you the link addresses for your country's site.)  Like our Facebook page or follow us on Twitter and tell your friends to do the same. I'm putting up more videos of the Slow Boat crew on YouTube. Also check out my new study guide entitled Navigation Rules: International and Inland (Abridged), Study Guide for Uscg Captains' and Merchant Mariner Exams.  Episode 6's South Pacific Weather with Met Bob has became anAlbum on iTunes. Subscribe to my free newsletter at http://www.slowboatsailing.com for free books and boat repair and upgrade tips.  There you can also find a orange banner link at the bottom of the page and promo code to save $15 off your next purchase of $200+ at West Marine. Write a review on iTunes for the podcast or on Amazon for my books. Finally, have some fun on the water!