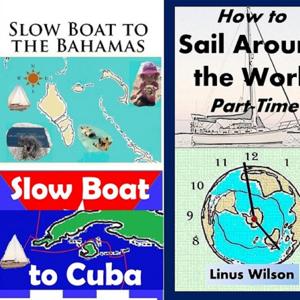 Ep. 12: Slow Boat to the Bahamas chapters 1, 2, and 3 read by the author Linus Wilson
04.20.2016 - By Slow Boat Sailing Podcast
Never before released audiobook versions of chapters 1, 2, and 3 of Slow Boat to the Bahamas are free to Slow Boat Sailing Podcast listeners.
You can get chapters 4, 5, and 6 if you pledge as little as $1 to the Slow Boat Sailing Podast's Patreon site.  Patrons get bonus content as well as a the free audiobook of the #1 sailing bestseller How to Sail Around the World Part-Time.
Check out our first video with Daly (poodle), Sophie (5), Janna, an me onYouTube! Hopefully, there will be more to come.
Yours truly said the dynamite fish bomber episode of SV Delos was one of their best and that they should be on cable in episode 10.  Now they are! You heard it on the Slow Boat Sailing Podcast first.
Stay tuned next week as the Slow Boat Sailing Podcast will bring you the crew of Wicked Salty in episode 13.
Tell your friends about the podcast.