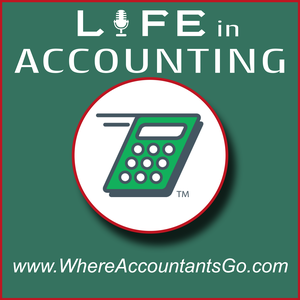 Don Maranca, originally our guest for episode number 1 (!), rejoined us for this new episode of Life In Accounting, the Where Accountants Go podcast.
An Old Friend…
Yes, Don was the very first guest on our podcast, and we asked him back to both get an update and to go deeper on a few topics.  In many of our podcast interviews we have a wonderful conversation, but are limited by time in how deep we can go on various topics.  Don's show was perhaps the most limited since it was our first episode and we were still learning the ropes, so we definitely needed to circle back and get Don's insights on growing a business and just a general update on his own enterprise as well.
Dramatic Growth!
Since we last spoke in 2016, Don's business structure has change dramatically… and in a good way.  What used to comprise 75% of his business, now only comprises 25%, but it didn't shrink!  Instead, he has added a new coaching service that has grown incredibly since we last talked, and has now become three times larger than the original practice.  Don's core business still remains consulting on strategy and systems for businesses, but he has been able to stretch that outside of just working with the business owners themselves, and now works with entire leadership teams.
Advice for starting up a practice…
We get into quite a bit of depth on what you need to know if you are thinking about starting a business of your own.  We cover common items that surprise new business owners – both good and bad.  Don also has valuable insights for us on what it takes to move from the individual that is technically proficient in an area, to becoming the leader of a business handling those services.  There are definitely some skills that are common, but for practically everyone there is also some growth that is imperative.  Don shares so much on this episode that I almost felt guilty… I received the value of a coaching session from merely doing the interview. 
If you find value in this episode for yourself, please check out these similar episodes from other prior guest entrepreneurs:  Sarah Elliott and Mariette Martinez
To listen in on our follow-up interview with Don Maranca, click on the player below: