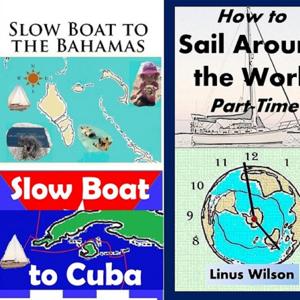 Subscribe to the Slow Boat Sailing podcast for free on iTunes and Stitcher!
The Slow Boat was struck by a whale 1,700 nautical miles from its next port and 1,800 nautical miles from its last port of call. The host Linus Wilson tells the tale. He also interviews the creators of Sailing Baby Blue. Check out their YouTube channel and blog! They sailed from Maine to the Bahamas to the Dominican Republic, Puerto Rico, the U.S. Vigin Islands, the BVI, Martinique, St. Martin, St. Vincent and the Grenadines, and Grenada. They did it in just two years in a 33 foot boat built in 1969. You have got to check out this inspiring story of cruising on a budget early in life! Now they are building a tiny house and exploring the U.S.A.
Find out why the Slow Boat sailed 3,500 nautical miles across the south eastern Pacific to the paradise of Hiva Oa, in the Marquesis this past December. When we hit $80 per round the world vlog episode or podcast episode, we will give away up to 2 weeks in a private berth for two to one of our Patrons. Patrons will be randomly selected based on their long-term support on www.Patreon.com/slowboatsailing. This is several thousand dollar value. Captained charters of similarly sized monohulls usually exceed $400 per day. Thus, this reward is over a $5,000 value. The timing of that berth depends on the schedules of the winner and Captain Linus Wilson. The Slow Boat is Hiva Oa in the Marquesas. Linus Wilson will be cruising there in May to July 2017. Hopefully, a patron and possibly his or her significant other can join the boat as crew.
Check out the YouTube channel of our ON THE AIS segement guest Sailorama. They are making sweet sailing videos in California. Check out their blog too!
We gave away $1,500 worth of free books when we hit our last Patreon goal of $20 per episode. That's right $20 gave $1,500 worth of books to sailors around the world! Pledging on Patreon is more than a good deed it is a great value and a chance to be on a two-week cruise is just one of the awesome rewards of pledging such as free audiobooks, podcast bonus episodes, and associate producer credits in the videos. Pledge today and join the adventure!
 
Grab a copy of one of my books:
Slow Boat to Cuba
https://www.amazon.com/Slow-Boat-Cuba-Linus-Wilson-ebook/dp/B01MFFX9AG
Slow Boat to the Bahamas
https://www.amazon.com/Slow-Boat-Bahamas-Linus-Wilson-ebook/dp/B018OUI1Q2/
and
How to Sail Around the World-Part Time
https://www.amazon.com/How-Sail-Around-World-Part-Time-ebook/dp/B01B0OFYNW/
have been #1 sailing bestseller on Amazon.
Support the vlog and podcast at
https://www.patreon.com/slowboatsailing
 
Since starting the podcast and YouTube channel, we have had to upgrade our cameras, computer hard drives, and audio equipment. Podcasts must pay hosting fees. We have incurred high internet access fees in foreign countries to put out a regular podcast and to upload videos. For every hour of podcast or minute of video many hours of work must go into them to produce them. We only produce highly edited podcasts and videos because we believe our listeners and viewers time is so valuable.
The vlog is also a video cruising guide of the places we visit focused on the seamanship necessary to visit the exotic foreign ports that we visit. The vlogs recount the adventures of the Slow Boat crew.
The host of the podcast and the captain of the Slow Boat is Linus Wilson who holds a "six pack" captain's licenses issued by the United States Coast Guard.
You can be a USCG certified captain too with the help of my audio album preparing you for the exam: Navigation Rules: International and Inland (Abridged), Study Guide for USCG Captains' and Merchant Mariner Exam on CD Baby. It is the least expensive study course for the toughest exam on the USCG captain's exam that I know of at $9.99.
The "Slow Boat" is an Island Packet 31′.
There are 12 episodes planned for season 1 on YouTube. New vlogs are released at 5 PM New York City time on the first Thursday of the month. Hopefully, we will have the support to film many more seasons of our round the world voyage. Season 1 goes from New Orleans, to Florida, to Cuba, stops at Providencia, though the Panama Canal, and across the equator into the South Pacific. Season 2 will feature the trip to and cruising in the most beautiful and remote islands in the world, the Marquesas. If you win the Patreon crew drawing, you could be a star in season 2.
Subscribe to the podcast at
https://itunes.apple.com/us/podcast/slow-boat-sailing-podcast/id1084423845?mt=2
http://www.stitcher.com/podcast/slow-boat-sailing-podcast