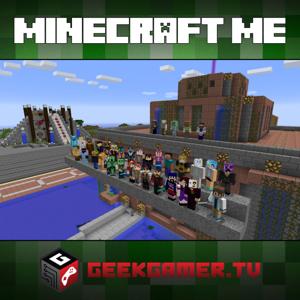 It's time for the first Patreon Survivor Games of the new year and we have a special treat with Joe AND Jon "Just Ducky" Kessler in the studio!  We also cover the Minecraft News of the Week and take your questions!  All this and more on this edition of Minecraft Me!
Show notes and episode page here: http://ggtv.me/mm157
Please RATE, FOLLOW and SUBSCRIBE!
Support Minecraft Me on Patreon! http://patreon.com/minecraft
YouTube:  http://youtube.com/GeekGamerNetwork
Dailymotion:  http://dailymotion.com/GeekGamerTV
Twitter:  http://twitter.com/GeekGamerTV
Facebook:  http://www.facebook.com/geekgamertv
Google+:  http://plus.google.com/+GeekGamerTV
Steam:  http://steamcommunity.com/groups/geekgamertv
Hosts: Chase Nunes, Joseph Falbey
Minecraft can be found at: http://www.minecraft.net
 
Support the show on Patreon and become one…TODAY!
GeekGamer.TV Updates via E-Mail: Subscribe to GeekGamer.TV by Email
Like our Facebook Fan Page, Join our Facebook Group, Steam Gaming Group and also follow us on Twitter!
Connect with us!
Minecraft News:
"'Minecraft' On PC Will Soon Be A Little More Like The Xbox, Playstation Editions
"
http://www.inquisitr.com/1783285/minecraft-on-pc-will-soon-be-a-little-more-like-the-xbox-playstation-editions/
Minecraft Update Rolling Out on PS4, PS3 & PS Vita Today
http://www.playstationlifestyle.net/2015/01/23/minecraft-update-rolling-ps4-ps3-ps-vita-today/
Minecraft leak wasn't company's fault, Microsoft says
http://www.cnet.com/news/minecraft-leak-wasnt-mojangs-fault-microsoft-says/
https://mojang.com/2015/01/lets-talk-about-password-security/
Pack Pick:
None this week!
Server Challenge!
This challenge is due by January 30th at 12 Midnight Pacific Time (3am Jan 31st Easter...