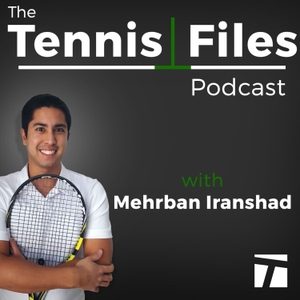 TFP 166: The 7 Foundational Movements to Build an Effective Training Program with Justin Russ
09.30.2020 - By The Tennis Files Podcast
On Episode 166 of The Tennis Files Podcast, I spoke with strength and conditioning coach Justin Russ about how you can build a simple and effective training program to get stronger and move better on the court.
Justin has worked with several pro athletes on the ATP and WTA tour. He is currently an Assistant Strength and Conditioning Coach at the University of Virginia and trains their elite NCAA Division I tennis teams. He was also the Head of Tennis Performance at IMG Academy in Bradenton, Florida and has delivered over 100 live education courses in eight countries and has presented at many conferences. Justin holds numerous certifications from several organizations including a Certified Tennis Performance Specialist with the ITPA and a Master Instructor for both TRX Training and TriggerPoint Therapy.
On the show, you'll learn the 7 foundational movements that all athletes (including tennis players) need to train, how to create an effective training program using these foundational movements, the biggest strength training mistakes tennis players make, how to examine and fix inefficient movement patterns, why you must tailor the program to the athlete and not the athlete to the program, at-home training advice, and much more!
I hope you enjoy my interview with Justin! Let us know what you think about this episode in the comments below!
And be sure to subscribe to Tennis Files to receive the latest tennis content to improve your game straight into your inbox!
Justin Russ Instagram
Simon Sinek Ted Talk
Minibands
Superbands
Kettlebell
Medicine Ball
TRX Suspension Training
Learn more about your ad choices. Visit megaphone.fm/adchoices