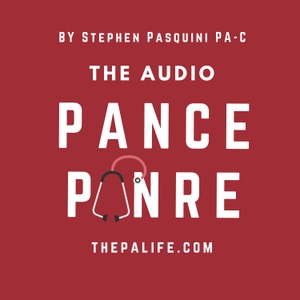 Ten Mixed NCCPA™ Content Blueprint Multiple Choice Questions
Welcome to episode 61 of the FREE Audio PANCE and PANRE Physician Assistant Board Review Podcast.
Join me as I cover ten PANCE and PANRE Board review questions from the SMARTYPANCE course content following the NCCPA™ content blueprint (download the FREE cheat sheet).
This week we will be covering ten general board review questions based on the NCCPA PANCE and PANRE Content Blueprint. 
Below you will find an interactive exam to complement the podcast.
I hope you enjoy this free audio component to the examination portion of this site. The full board review includes over 2,000 interactive board review questions and is available to all members of the PANCE and PANRE Academy and SMARTYPANCE which are now bundled together into one very low price.
* You can download and listen to past FREE episodes here, on iTunes, on Google Play Music or Stitcher Radio.
* You can listen to the latest episode, take an interactive quiz and download your results below.
Listen Carefully Then Take The Practice Exam
If you can't see the audio player click here to listen to the full episode.
Episode 5 – General PANCE/PANRE Podcast Quiz
The following 10 questions are linked to NCCPA Content Blueprint lessons from the SMARTYPANCE and PANRE Board review website. If you are a member you will be able to log in and view this interactive video content.
1. An 18-year-old male presents with pain in his wrist after he fell off of a moving motorcycle. Physical examination reveals tenderness in the anatomic snuffbox. No fracture is noted on plain radiography of the wrist. Which of the following is the recommended treatment for this patient?
A. An ace wrap of the wrist
B. Closed reduction of the fracture site
C. Thumb spica cast application
D. Open reduction of the fracture site
2. A solitary pulmonary nodule is found on a pre-employment screening chest x-ray in a 34-year-old non-smoking male. There are no old chest x-rays to compare. Which of the following is the most appropriate next step in the evaluation?
A. CT scan of the chest
B. Needle biopsy of the lesion
C. Positron emission tomography of the chest
D. Fiberoptic bronchoscopy
Solita...