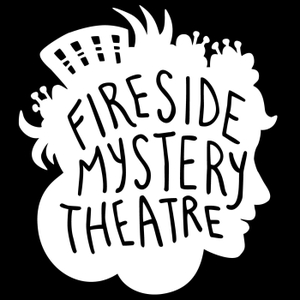 The tale of Tan Jacobs' path to the electric chair is quite a shocker. Even though it was written for him at birth…
"Guilty as Charged" was recorded live on May 27th, 2018\. It was part of our show, **The Electric Chair**.
We at Fireside Mystery Theatre present these stories without prejudice or agenda. Our tales of the electric chair are not meant to condemn nor condone. Rather, they are meant as an expression of our persistent exploration of the dark and unsettling.
Featured in this episode:
James Rieser as The Warden
David Linton as The Judge
James Kleinmann as Tan Jacobs
Ali Silva as Ma Jacobs
Mary Murphy as Young Tan Jacobs
Michael Pate as Father Jacobs
Eirik Davey-Gislason as The Doctor
Kacie Laforest as The Nurse and The Victim
Alain Laforest as The Announcer
Musical Performance:
"Sing Me Back Home" by Merle Haggard
Performed by Karen Tennison accompanied by Noel Carey
Radio play by Courtenay Gillean Cholovich
Directed by Ali Silva & Gustavo Rodriguez
Special research by Courtenay Gillean Cholovich with thanks to Kentucky Supreme Court Justice Bill Cunningham and the staff of the Kentucky State Penitentiary.
Musical score improvised by Noel Carey
Sound Effects Designer and Engineer: Greg Russ
Technical Director at The Slipper Room: Johnny Goddard
Production Coordinator: Brontis Shane Orengo
Theme music by Jason Graves
Post-production audio by Ali Silva
Podcast production by Ali Silva & Daniel Graves
Produced by Gustavo Rodriguez, Ali Silva, Daniel Graves, & Rebecca Graves for Fireside Mystery Productions
Copyright 2018 Fireside Mystery Productions
[**Like what we do? Become a patron and help us keep doing it!**](https://www.patreon.com/firesidemysterytheatre)
[firesidemysterytheatre.com](https://www.firesidemysterytheatre.com) [@firesidemystery](https://www.firesidemysterytheatre.com/social)
[Snag some FMT swag!](https://www.firesidemysterytheatre.com/merch)
#horror #macabre #mystery #thriller #suspense #audiodrama #radiodrama #radiotheatre #radiotheater #radioplay #weird #radio #audiodramasunday #podernfamily #macabre #weird #kentucky #electricchair #executions #electricity #electricshocks #murder #pyschopath #murderer #homicide #deathrow #killer #warden #supernatural #paranormal #immortality