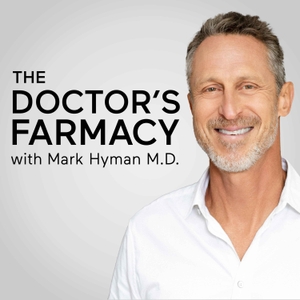 The Future Of Medicine: Precision And Personalization | This episode is brought to you by TrueDark, BiOptimizers, and HigherDOSE
It's an exciting time to be in medicine, as we watch technological advances completely change the way we understand the body. There are revolutions happening on multiple levels: the "omics" revolution that looks at the interactions of the genome, microbiome, metabolome, transcriptome, and more; the digitization of data that involves tracking our biology through things like the Oura ring or a continuous glucose monitor; and the systems biology medicine movement that is reframing the way we look at preventing disease and healing the body at the root. I was excited to sit down with Dr. Daniel Kraft to talk about a different vision that will integrate this type of information into the future of healthcare. 
Dr. Kraft is a Stanford and Harvard-trained physician-scientist, inventor, and entrepreneur. He is currently serving as the Chair of the XPRIZE Pandemic Alliance Task Force. With over 30 years of experience in clinical practice, biomedical research, and healthcare innovation, Dr. Kraft has chaired the Medicine for Singularity University, and is founder and chair of Exponential Medicine, a program that explores convergent, rapidly developing technologies and their potential in biomedicine and healthcare. He has multiple scientific publications and patents through NIH-funded faculty positions with Stanford University School of Medicine, and as clinical faculty at UCSF. Dr. Kraft is heavily involved in healthcare innovation, and recently founded Digital.Health, and is an advisor to several leading startups and healthcare organizations.
This episode is brought to you by TrueDark, BiOptimizers, and HigherDOSE.
TrueDark Daylights help prevent eye strain and headaches from overexposure to junk light and TrueDark Twilights collection for nighttime helps you get deeper sleep. TrueDark is offering podcast listeners 15% off with code DRHYMAN15. Just go to truedark.com/hyman.
Right now, BiOptimizers is offering Doctor's Farmacy listeners 10% off your Magnesium Breakthrough order. Just go to magbreakthrough.com/hyman and use code HYMAN10 to receive this amazing offer.
The Infrared Sauna Blanket from HigherDOSE gives you all the benefits of infrared in an easy-to-use, portable blanket at a much lower cost than a stand-alone sauna. HigherDOSE is offering my community an exclusive discount of $75 off, with promo code FARMACY75 at higherdose.com. 
Here are more of the details from our interview: 
Moving away from a reactive approach to healthcare towards an era informed by continuous data (6:34)
Using our smartphones and other technology as integrative and preventive medical tools (10:07)
How can we avoid filtering new medical data through outdated medical paradigms? (17:23)
Promoting new medical paradigms by rewarding and incentivizing practitioners (21:56)
Crowdsourcing medical data as the future of individual and public health (24:16)
What is exponential medicine and how will it transform healthcare and behavior change? (28:14)
What does the future of personalized nutrition look like? (39:24)
Reimagining our approach to conducting medical research (45:35)
Covid as a catalyst for change in the future of medicine (53:31)
What will the patient experience of healthcare look like in 50 years? (58:15)
Learn more about Dr. Daniel Kraft at https://danielkraftmd.net/ and follow him on Twitter @daniel_kraft.
Check out Dr. Kraft's podcast with CVS Heath, Healthy Conversations here.
See acast.com/privacy for privacy and opt-out information.