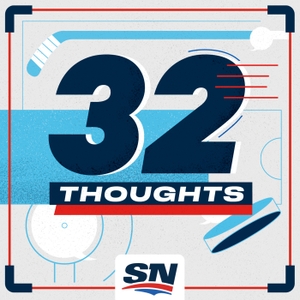 The NHL Adapts On The Fly, Plus Jordan Subban: Hockey Player And Amplifying Entrepreneur
01.08.2021 - By 31 Thoughts: The Podcast

Some NHL training camps aren't off to a good start thanks to COVID — the Stars are dealing with an outbreak in their organization and the Blue Jackets have cancelled practice "out of an abundance of caution and in accordance with NHL Covid-19 protocols." Jeff and Elliotte discuss how the league will handle the positive cases, if we'll see a bubble scenario again and what other teams are thinking. They also touch on Corey Crawford's leave of absence in New Jersey (10:00), Mathew Barzal's contract situation on the Isle (15:30) and the world juniors final (54:15) between Canada and the United States.
Then Jordan Subban joins the podcast (24:00) to talk about launching a marketplace (UJIMAA) to support BIPOC and women-owned businesses, how the idea came about and why the move was important to him. He also shares some memories about his minor-hockey days in Toronto, which activity got the competitive juices going in the Subban household, and much more.
This episode is dedicated to the late John Muckler. Condolences to his family and friends.
Inside Ujimaa, Jordan Subban's New Site Elevating BIPOC-Owned Businesses by Vivek Jacob
This podcast is produced and sound designed by Amil Delic, and hosted by Jeff Marek and Elliotte Friedman. 
Audio Credits: CityNews and Sportsnet.
The views and opinions expressed in this podcast are those of the hosts and guests and do not necessarily reflect the position of Rogers Media Inc. or any affiliate.