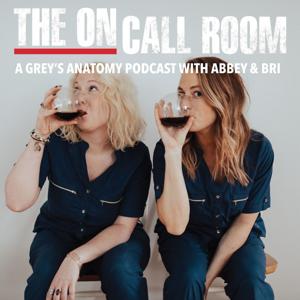 The On-Call Room: A Grey's Anatomy Podcast
By The On-Call Room: A Grey's Anatomy Podcast
What's The On-Call Room: A Grey's Anatomy Podcast about?
Do you feel like one episode of Grey's Anatomy a week just isn't enough to get you through? Well pour yourself a glass of wine (or a shot of tequila - we're not picky) and join veteran Grey's fans Abbey Moore and Bri Babbitt to discuss, dissect and indulge in chatter of your favorite characters, heartbreaking moments and everything in between.
We will be re-watching the entire series starting with Season 1 Episode 1 - and encourage you to do the same. You won't be sorry! Or you might, but we will just forget that. Just like we did with the musical episode in Season 7.
Be warned! From the very beginning this is a spoilers podcast. We reference the entire show and everything that has happened through to current Greys. We do not recommend listening if this is your first time watching the show.