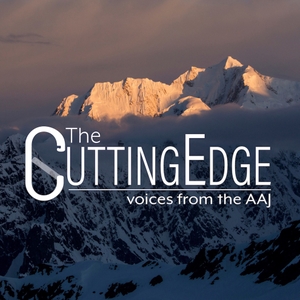 Koyo Zom in northern Pakistan is nearly 7,000 meters tall, and its stunning north face looks like a massive medieval fortress. No one had climbed or even attempted Koyo Zom for more than 40 years. In September, Tom Livingstone and four British friends set out to change that.
Dividing into two teams, they attempted two lines on Koyo Zom. Tom and his climbing partner, Ally Swinton, succeeded on a very difficult route they called the Great Game (1,500m, ED+). After descending most of the mountain, on the way back to base camp, they had a serious accident, which ended with a helicopter rescue. In Episode 24 of the Cutting Edge, Tom Livingstone talks with the AAJ's Chris Kalman about the climb, the rescue, and how the "asterisk" on the climb affects his feelings about it.
The Cutting Edge is sponsored by Hilleberg the Tentmaker (hilleberg.com). This podcast is produced by the American Alpine Club.