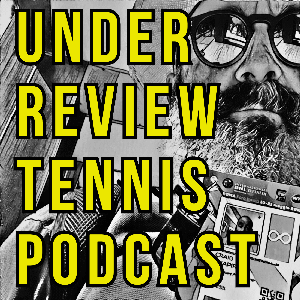 Toure, a prolific journalist, podcast host, and an excellent  player has lived an incredible life in journalism, and while not our usual tennis personality, has done some amazing things in tennis.  As a child he grew up in Massachusetts and then attended Emory University.  As a junior tennis player, he played in tournaments all around New England.   Toure parlayed an internship into a superlative career at Rolling Stone Magazine, and then beyond. 
On this episode Toure tells us his perspectives on the current landscape in light of the corona virus pandemic.    He explains what it was like to compete in juniors coming from a predominately African-American club.    And he's going to tell us about his time spent with Prince, Andy Roddick, and Jennifer Capriati . He breaks down some of the challenges he has faced living in Brooklyn during the pandemic lockdown.   Toure explained the inspiration for his tennis and discussed many of the black players that excelled throughout history, including Arthur Ashe, Althea Gibson, Venus and Serena, and Richard  Williams, and Coco Gauff.
(Recorded March 26, 2020. Released April 6, 2020)
Other Episodes of UNDER REVIEW:
For other episodes of UNDER REVIEW , check out: Patrick Mouratoglou [Ep32]; Nick Bollettieri [Ep28]; Paul Annacone [Ep15]; Brad Gilbert [Ep01];
To hear more from current players on the pro tour check out  these episodes:
Belinda Bencic [Ep42]
Bianca Andreescu [Ep43]
To read CRAIG'S ARTICLE about the HUGGY BEAR, subscribe to RACQUET MAGAZINE.
To hear  Wimbledon stories on UNDER REVIEW, check out: TIM HENMAN [Ep10], ANDRE SA [Ep33].
UNDER REVIEW is a podcast in which tennis insiders share unique stories and insightful perspective. For more information, please contact [email protected]
SUPPLEMENTAL MATERIAL:
Check out The Malibu Racquet Club: https://www.maliburacquetclub.com/
KEYWORDS:
Arthur Ashe, Venus Williams, Serena Williams, Richard Williams, Boston, Prince, Capriati, Roddick Grand Slam, Junior Tennis, Corona Virus, WTA, ATP,  Tennis, Brooklyn, Fort Greene