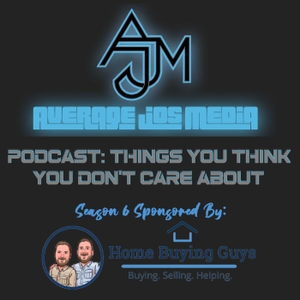 Ladies and Gentlemen, Boys and Girls, Children of all ages... NOW... LIVE on Facebook with podcast audio dropping shortly there after... it's the return of your favorite #TGIM part of your day, the ONLY way to start your week... The Average Jos and #TYTYDCA Podcast!
Man oh man do we have some exciting things in store for Season 5! Tonight on our Season Premiere is no exception... you want more guests? NEW guests? Fun and exciting conversation over things you thought you didn't care about until after hearing us talk about them and then subsequently discovering that you do in fact have deep seeded thoughts and feelings over said topics?!?!?! Check, Check, and more Checks!
Tune in tonight, catch up in between because this season is going to be Legen....wait for it....dary!
Tune In | Like | Listen | Subscribe
#averagejosmedia #tytydca #podcast #live
#interviews #guests #stories #funny #epic
#dallas #texas #dads
#podcastersofinstagram #podcasters #podcastlife #podcastshow #podcastnetwork
#thatsfair #ivehearditbothways
#keepitclean #itsinthegame
#supportthoseyouknow
Support the show (https://venmo.com/code?user_id=2368396532383744872)