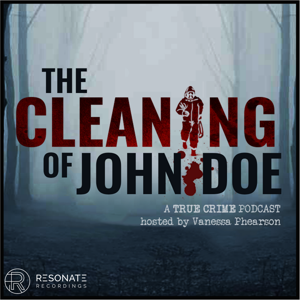 Over the course of season one of The Cleaning of John Doe, our loyal listeners have gotten to know more about the crime scene cleaning industry but the episodes have raised some great questions for our listeners. This week we're going to change it up a bit. In today's Q &A episode I'll be officially introducing my better half, Ethan. We'll be answering all of your questions in this 2-part Q&A series. In addition to all that greatness, we decided to spice it up and bit and invite hosts of other podcasts to participate and ask your questions on your behalf.
Mixed, mastered and produced by ResonateRecordings.com
Have a question for us? Call us now at (818) 850-2439 and we'll take up your question on a Q & A episode! Don't be shy - we want to hear from you!!
Get social with us! Facebook: https://www.facebook.com/TheCleaningofJohnDoe/ Twitter: https://twitter.com/JohnDoePodcast Mailing List: http://thecleaningofjohndoe.com (the bottom of any page other than the home page)
Special thank you to all those who stopped everything they were doing to participate in this epic Q&A episode! They are listed below in the order they appeared on the show:
**Marissa from The Vanished Podcast:** Apple: https://itunes.apple.com/us/podcast/the-vanished-podcast/id1081124929?mt=2
Non-apple: https://wondery.com/wondery/shows/thevanished/
Twitter: @thevanishedpod
Facebook: https://www.facebook.com/thevanishedpodcast/
**Jillian from Court Junkie:** Apple: https://itunes.apple.com/us/podcast/court-junkie/id1144137857?mt=2
Non-Apple: http://courtjunkie.libsyn.com/
Twitter: @CourtJunkiePod
Facebook: https://www.facebook.com/CourtJunkie/
**Gillian from Hamilcast & True Crime Obsessed:** https://www.thehamilcast.com/
Apple: https://itunes.apple.com/us/podcast/true-crime-obsessed/id1232009882?mt=2
Non-Apple: https://audioboom.com/channel/true-crime-obsessed
Twitter: @TrueCrimeObsess
Facebook: https://www.facebook.com/TrueCrimeObsessed/
**Stacey from The Rough Giraffe** Apple: https://itunes.apple.com/us/podcast/rough-giraffe/id1214743716?mt=2
Non-Apple: https://roughgiraffe.podbean.com/
Twitter: @RoughGiraffePod
Facebook: https://www.facebook.com/roughgiraffepod/
**Vlado from It's not Rocket Surgery** Apple: https://itunes.apple.com/au/podcast/podcast-its-not-rocket-surgery/id975344238?mt=2
Non-Apple: https://www.podchaser.com/podcasts/podcast-its-not-rocket-surgery-103815
Twitter: @RcktSrgry
Facebook: https://www.facebook.com/RcktSrgry/
**Barney & Tara from Bloody Murder** Apple: https://itunes.apple.com/us/podcast/bloody-murder-a-true-crime-podcast/id1207505792?mt=2
Non-Apple: https://www.blubrry.com/bloody_murder___a_true_crime/
Twitter: @bloodymurderpod
Facebook: https://www.facebook.com/bloodympodcast/
**Tawny from Dirty Bits** Apple: https://itunes.apple.com/us/podcast/the-dirty-bits/id1231890102?mt=2
Non-Apple: https://www.stitcher.com/podcast/tawny-and-george-platis-4/the-dirty-bits-podcast
Twitter: @thedirtybitspod
Facebook: https://www.facebook.com/DirtyBitsPodcast/
**Roseanne from Killafornia Dreaming**
Apple: https://itunes.apple.com/us/podcast/killafornia-dreaming-true-crime-tales-from-golden-state/id1250294822?mt=2
Non-Apple: http://killaforniadreaming.libsyn.com/
Twitter: @killaforniapod
Facebook: https://www.facebook.com/killaforniadreaming/
**Sam from True Crime Story Time** Apple: https://itunes.apple.com/us/podcast/true-crime-story-time/id1296626229?mt=2
Non-Apple: https://truecrimestorytime.podbean.com/
Twitter: @TCSTpodcast
Facebook: https://www.facebook.com/truecrimestorytimepodcast/
**Warbaby from Murderous Minors: Killer Kids** Apple: https://itunes.apple.com/us/podcast/murderous-minors-killer-kids/id1328036628?mt=2
Non-Apple: https://audioboom.com/channels/4939926
Twitter: @KillerKidsPod
Facebook: https://www.facebook.com/killerkidspod/
**Allison from Not Your Little Lady** Apple: https://itunes.apple.com/us/podcast/not-your-little-lady/id1223807546?mt=2
Non-Apple: http://notyourlittlelady.libsyn.com/website
Twitter: @LadiesofNYLL
Facebook: https://www.facebook.com/notyourlittlelady/
**Cristina from Cold Traces** Apple: https://itunes.apple.com/us/podcast/cold-traces-cold-case-true-crime-investigation/id1229467222?mt=2
Non-Apple: https://audioboom.com/channel/cold-traces
Twitter: @Cold_Traces
Facebook: https://www.facebook.com/ColdTracesPodcast/
**John David Booter from Done Disappeared** Apple: https://itunes.apple.com/us/podcast/done-disappeared/id1301190222?mt=2
Non-Apple: http://podbay.fm/show/1301190222
Twitter: @DoneDisappeared
Facebook: https://www.facebook.com/DoneDisappeared/
Sponsor: Vincero Watches GetTheWatch.net Promo: John
**Trailers played:**
**Missing Minority Project** Apple: https://itunes.apple.com/us/podcast/the-missing-minority-project-i-true-crime-podcast/id1308013048?mt=2
Non-Apple: https://www.blubrry.com/missingminorityproject/
Twitter: @MMP_Podcast
Facebook: https://m.facebook.com/missingminorityproject/
**Gone Cold Podcast**
Apple: https://itunes.apple.com/us/podcast/gone-cold-podcast-texas-true-crime/id1214679007?mt=2
Non-Apple: https://www.podbean.com/podcast-detail/3xz26-5836c/gone+cold+podcast+-+texas+true+crime
Twitter: @GoneColdPodcast
Facebook: https://www.facebook.com/gonecoldpodcast/
**Cold Traces**
Apple: https://itunes.apple.com/us/podcast/cold-traces-cold-case-true-crime-investigation/id1229467222?mt=2
Non-Apple: https://audioboom.com/channel/cold-traces
Twitter: @Cold_Traces
Facebook: https://www.facebook.com/ColdTracesPodcast/