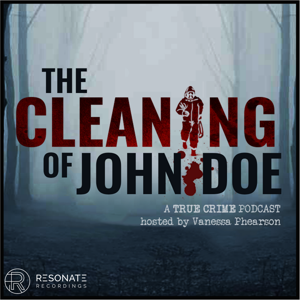 Part 2 of our Q&A we'll be answering more of your questions. We also have bloopers after the trailers. In addition to all that greatness, we decided to spice it up and bit and invite hosts of other podcasts to participate and ask your questions on your behalf.
Mixed, mastered and produced by ResonateRecordings.com
Have a question for us? Call us now at (818) 850-2439 and we'll take up your question on a Q & A episode! Don't be shy - we want to hear from you!!
Get social with us! Facebook: https://www.facebook.com/TheCleaningofJohnDoe/ Twitter: https://twitter.com/JohnDoePodcast Mailing List: http://thecleaningofjohndoe.com (the bottom of any page other than the home page)
Special thank you to all those who stopped everything they were doing to participate in this epic Q&A episode! They are listed below in the order they appeared on the show:
**Tyler from The Minds of Madness** Apple: https://itunes.apple.com/us/podcast/the-minds-of-madness-true-crime-stories/id1191274361?mt=2
Non-Apple: https://audioboom.com/channel/the-minds-of-madness
**Maurice from Up and Vanished** Apple: https://itunes.apple.com/us/podcast/up-and-vanished/id1140596919?mt=2
Non-Apple: https://audioboom.com/channel/up-and-vanished
**Jessica from Murder Road Trip** Apple: https://itunes.apple.com/us/podcast/murder-road-trip/id1265659221?mt=2
Non-Apple: https://www.podbean.com/podcast-detail/xgdin-58e7c/Murder+Road+Trip
**All Eyes. No Voices.** Apple: Coming Soon
Non-Apple: http://aenvpodcast.com/about-us/
**WarBaby from Killer Kids** Apple: https://itunes.apple.com/us/podcast/murderous-minors-killer-kids/id1328036628?mt=2
Non-Apple: https://player.fm/series/murderous-minors-killer-kids
**Gerald from Pop Culture Cosmos** Apple: https://itunes.apple.com/us/podcast/pop-culture-cosmos/id1150783424?mt=2
Non-Apple: https://www.podchaser.com/podcasts/pop-culture-cosmos-500513
**Moms and Murder** Apple: https://itunes.apple.com/us/podcast/moms-and-murder/id1261679921?mt=2
Non-Apple: http://directory.libsyn.com/shows/view/id/momsandmurder
**Shay from Swindled** Apple: https://itunes.apple.com/us/podcast/swindled/id1308717668?mt=2
Non-Apple: https://tunein.com/radio/Swindled-p1059512/
**Danno from Wayne Gale Variety Hour** Apple: https://itunes.apple.com/us/podcast/wayne-gale-variety-hour-lutefisk-sushi-podcast-podcast/id466932476?mt=2
Non-Apple: https://www.podchaser.com/podcasts/the-wayne-gale-variety-hour-th-110779
**True Crime Story Time** Apple: https://itunes.apple.com/us/podcast/true-crime-story-time/id1296626229?mt=2
Non-Apple: https://truecrimestorytime.podbean.com/
**Sam from Human Ordinary** Apple: https://itunes.apple.com/au/podcast/human-ordinary/id1121669942?mt=2
Non-Apple: https://www.planetbcasting.com/our-shows/humanordinary/
**Diane from History Goes Bump** Apple: https://itunes.apple.com/us/podcast/history-goes-bump-podcast/id917406066?mt=2
Non-Apple: http://historygoesbump.libsyn.com/
**Vince from Gone Cold Podcast** Apple: https://itunes.apple.com/us/podcast/gone-cold-podcast-texas-true-crime/id1214679007?mt=2
Non-Apple: https://player.fm/series/gone-cold-podcast-texas-true-crime
**Trailers Played:**
**Somebody Somewhere:** https://audioboom.com/channel/somebody-somewhere
**Murderous Minors:** https://audioboom.com/channels/4939926
**Swindled:** http://www.swindledpodcast.com/