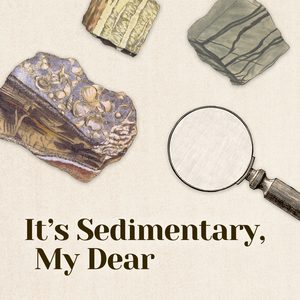 What's big and deadly, and travels faster than a jet plane? It's a tsunami. Hosts Jane and Ellen explain how ocean waves become tsunamis. They talk about the basic properties of waves, and the differences between tidal waves and tsunamis. They also talk about some famous tsunamis. (Spoiler alert - don't expect a happy ending.)
Sources:Introduction to Oceanology by Paul Webb, offered online by Roger Williams University
https://rwu.pressbooks.pub/webboceanography/chapter/chapter-10-waves/ Japan Revives a Sea Barrier That Failed to Hold by Norimitsu Onishi for The New York Times
https://www.nytimes.com/2011/11/03/world/asia/japan-revives-a-sea-barrier-that-failed-to-hold.html Japan earthquake and tsunami of 2011 by Kenneth Pletcher for Encyclopedia Brittanica Online
https://www.britannica.com/event/Japan-earthquake-and-tsunami-of-2011
Tsunami alert twitter feeds from the US National Weather Service:https://twitter.com/NWS_NTWC https://twitter.com/NWS_PTWC Music for It's Sedimentary, My Dear is provided by Solar Sleighs.Follow us on Twitter and Instagram. You can also contact us through our website sedimentarymydear.com.