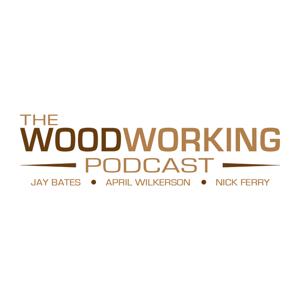 In the fourth episode of The Woodworking Podcast we're talking about dust collection systems.
Episode notes:
Breaking News:
Nick - April hit 200,00 subscribers on her youtube channel! Come see us at The Woodworking Shows in Atlanta, April 2016.  See all of who will be in Atlanta.  I will also be at the Milwaukee show in March.
April - Is headed to Germany for some events.
Jay - Finished his tool tote and worked with Shawn Stone to build two shop air filter units.  He started thinking about his kitchen table build by getting some wood from Pickens Hardwoods.
Episode Topic: Dust Collection & Practice, Practice, Practice
April worked with oak for the first time and didn't much care for the scent.
The Sapele Jay and Nick used for the top on a cabinet messed with both of our sinuses.
We also talk tongue and groove panel doors which brought up a good topic of trying new techniques people haven't tried before.
Practicing techniques and/or various joints again and again make for better results surprisingly.
April was having issues with her dust collector clogging from the planer which drove us into the ubiquitous conversation about dust collection systems.  If I had to bet, we will be talking about this again.
26:12 thumbs up for a mutual ahh ha moment
Chisel steel quality can vary widely, even within one brand of chisels.  Nick's Footprint chisels.
April took the leap onto Instagram so check out April, Nick and Jay on IG!  This took us into the deep thinking that is the #hashtag.
Jay has been on a therapeutic hand kick.  Let's see where it takes him.
Questions From YouTube:
Hi guys! I listened to the podcasts today and wanted to share a little gem I stumbled upon. Jay mentioned using cardboard to keep glue off his bench during glue-ups and I think Nick mentioned stud finders at Costco. While at Costco I collect the pieces of cardboard that come between layers of products on the pallets. They let me have it for free, I think because they have to pay to get rid of it (hence them pushing boxes at the checkout). I've found two types there, thicker poster board (think cereal box weight) and a thinner brown type slightly heavier than paper grocery bags. Both are also great for templating. Hope you and the folks listening in find this useful. Cheers! Tracy.
And Nick kept referring to Tracy as "he", and probably got that wrong, sorry Tracy!