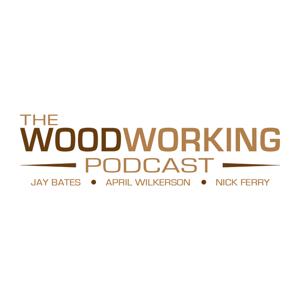 Episode notes:
Thank you to the following contributors:
Frederick McIntyre
Eric Wright
a friend in north Georigia :)
Instagram Links:
Jay
Nick
April
Breaking News:
Woodworking In America 2016. We plan on hanging out after the show on Saturday the 17th of September at the Morelein Lager House. It's a 17 minute walk across the bridge into Ohio (according to google maps). Here's a link to the place: http://www.moerleinlagerhouse.com/
Patreon! Check out patreon.com/thewoodworkingpodcast. 
Nick – Water heater and many ways to do things.
April – Outdoor shower, outfeed table.
Jay – Bookcase for the wife. Plywood and paint.
Submitted Questions:
Frank DiLoreto - What type of brad nailers do you prefer? Battery or compressed air? I have a 18 gauge air nailer but I'm tempted to convert to a battery nailer so I don't have to deal with my pathetic 3 gallon air compressor anymore. But battery operated nailers are quite pricey. Also, in the near future I have an entire basement to renovate with all new trim so I feel the purchase is warranted. But I may just be trying to convince myself of that. Just like a new band saw...
Chad - I am planning on attending the Woodworking in America convention in Covington, KY next month and would love to get some advice before then. I am in the market for a jointer and was wondering if I can typically get a pretty good deal on something like this at one of these conventions or if I am better off just buying from Rockler or Woodcraft depending on who has the better sale at the time?
david bareford - What's the best finish for a maple dining table top? I have kids...
brewsters make - What was the hardest tool to "perfect" when you first started woodworking?
mautterback - How much time do you spend on cleanup everyday?
tony baggett - Do you ever think you'll build a stand alone workshop?
figueroa_concepts - Do you guys ever talk to yourselves when you're in the shop? I do, my wife trips out about it lol.