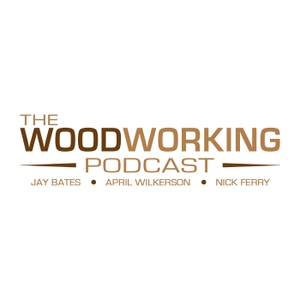 Episode notes:
Thank you to the following website contributors: 

Lewi Uberg

David Eichler

Jacob Baker
Thank you to the following Patreon contributors:
Scott Griffith
Nicholas Gomez
Cole Bouchard
Chris Stokesmore
Jason Adamczyk
Modern Builds
George Thomas
Don Chesser
Clement Brizard
John Wilson
Steve Mills
Martin Wegner
Saint Nicster
Christopher Michael Copes
Terry Burns-Dyson
Page Bonifaci
Frederick McIntyre
Darren Pruitt
Instagram Links:
Jay
Nick
April
Referenced Channels/websites:
For flattening a wide board:
Paul Sellers setting a hand plane video: https://www.youtube.com/watch?v=gE4yVgdVW7s
Jay's flattening a workbench with hand tools video: https://www.youtube.com/watch?v=PwLY-zbqA2g
The Wood Whisperer's flatten a workbench with a router video: https://www.youtube.com/watch?v=qtkBZHLJyD0
Nick's Noteworthy Woodworking link: https://nickferry.com/2016/10/noteworthy-woodworking-18/
Submitted Questions:
Keith Crawford - I was wondering if you had any suggestions for a problem I ran into. I started a project for a live edge serving board and noticed it had a significant cup running the length of the middle of the board. The material is 1" thick. I was wondering if you had any tips for getting the cup out of the board?
Lewi Uberg from Norway - The problem here is that we are just 5 million people, so much of the tools etc. you use (and I'm a tool nerd) is hard to get. In example i only know of 2 stores that sell t-tracks in this country. I've bought somethings from the US, but we use the metric system, so many things that would help me, would just confuse me. What's your opinions on the metric system?
Ian Thatcher - I see tons of people using blue painters tape on their drill bits to mark the depth they want to drill a hole. I have never had great results with this the tape always seems to move on me. I could not find my tape one day and looked through the drawer and found some teflon pipe thread tape and was amazed by how well it works. Everyone has at least one roll of it if they have done any plumbing projects, i know i buy one every time i need to do some plumbing. Its bright white so its visible and it sticks right to the bit and does not move. When i am done with it i just zip the bit through a piece of scrap and it is gone. I have not seen anyone use this before and really want to spread the word.
ed gonzales - have you had experience with woodriver planes?