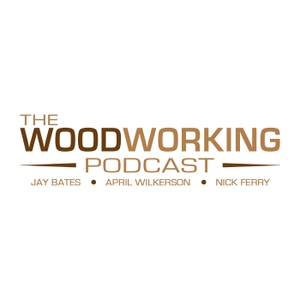 In the fifth episode of The Woodworking Podcast we're talking about table saw dust collection, starting welding, and shop layout.
Episode notes:
Breaking News:
Nick – Finished his TV lift cabinet and now is planning his next project which is his take on a Harbor Freight organizer. He is also experimenting with different ways to showcase his finished projects.
April – Shot an updated shop tour and is recovering from traveling to Europe.
Jay – Starting on a dining table and is planning on doing a wedge through mortise and tenon sprung breadboard end.
Submitted Questions:
Chris H - I have a DC question. I have a Rigid TS3650 contractor's saw. This has an external belt drive motor hanging off the back. Dust collection is horrible!! I have tried the Dust "Diaper" er i mean Cutter bag thingy but it was worse than using the equipped port. at the blade. My DC consists of a shop-vac and dust deputy. Any suggestions on how to improve DC on this saw?
Magnum Magnetics
Saw Stache
Ronald Walters YouTube Channel
Brian from Minnesota - My question is about welding. I think one of you mentioned doing this for a project for the first time. My wife wants some desks that would have a steel frame and legs, any info you can share about what you used and what you learned would be great! are there welding podcasts?
YouTube Channels that include welding: RetroWeld Matt DiResta, Jimmy DiResta, Laura Kampf, I Like to Make Stuff, Make Something
Welding Channels: ChuckE2009, Welding Tips and Tricks
Anthohy Ryan - I am going going to build a table saw Paoson style http://paoson.com/downloads/en/blog/homemade-router-saw-table--n16
Just wondering what is your preferred size of out feed table? I have plenty of room is bigger better, or should I go something more conservative. I was thinking 2400 x 2400mm (8' x 8') and making part of it a work bench or would this be overkill.
Keep up the great work!!
Laney outfeed table
Nick received an email asking about top regarding shop layout.
Nick suggests to think about your workflow on projects, maybe going for a U shape set up. Using SketchUp is a good option when thinking about playing with the layout of your shop.
April first found a place for her tablesaw, which requires the most infeed and outfeed, then placed everything else around it.
Jay also suggest workflow, with the focus on when you bring material into the shop. Where is it going to go and what tools will you be using first to manage it.