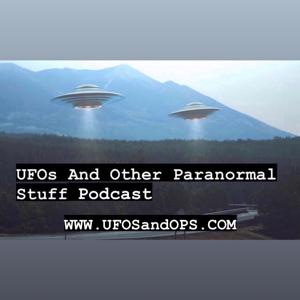 UFO's and Other Paranormal Stuff
By Andrew Wapshott
What's UFO's and Other Paranormal Stuff about?
This is UFOs and Other Paranormal Stuff podcast.
I talk about all things UFOs, as well as the paranormal, and other strange mysteries too.
I want to know your stories too.
Whatever your true story is, alien abduction, UFO sightings, poltergeists, ghosts, cryptids etc, email it to me at:
[email protected] and I will read it out on the podcast.
Every mention on social media will get a shout out too.
WWW.UFOSANDOPS.COM is the website for my this podcast. You'll find all episodes there and also some articles will appear soon written by Maggie Zed.
Also, why not visit my facebook group: www.facebook.com/groups/ufosandotherparanormalstuff
and
https://www.facebook.com/UFOs-and-Other-Paranormal-Stuff-Podcast-101139452391683/
Thank you and I look forward to your stories.