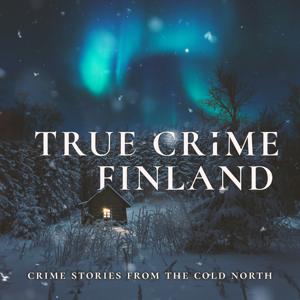 Mother and wife Hilkka Saarinen mysteriously disappeared into thin air during Christmas preparations in 1960.
This episode details domestic violence – it will not be suitable for all. If you or someone you know is in a similar situation, help is available for you: in Finland, you can call Naistenlinja at 0800 02400 or Nollalinja at 080 005 005. In an acute situation, please reach out to the emergency exchange.
Podcast promo for this week: Fetal Abduction
Huge thanks to Mitchell and Kate for becoming new patrons! On Patreon, you can donate as little as two dollars a month and in return, get exclusive access to ad-free episodes, scripts, bonus episodes on various topics and other nice rewards. Visit the page at https://www.patreon.com/truecrimefinland
Art is by Mark Pernia
Music is "Night" by VVSMUSIC
My art store: https://society6.com/minnanen
Podcast swag store: https://www.redbubble.com/people/tc-finland/shop?asc=u
Email: [email protected]
Website: https://truecrimefinland.squarespace.com  
Facebook group: https://www.facebook.com/groups/507039419636994/  
Twitter & Instagram: tc_finland
Sources:Helsingin Sanomat 29.11.1972: Sitkeä huhu sai poliisin etsimään ruumista uunista, p. 7 & 14
Helsingin Sanomat 29.12.1972: Kokemäen uunisurma käräjillä – syytetty kiistää murhan ja kätkemisen, p. 15
Helsingin Sanomat 11.6.1974: KKO vahvisti vapauttavan tuomion uunisurmajutussa, p. 9
Helsingin Sanomat 12.6.1973: Uunisurman syytetylle pakollinen avustaja, p. 16
Markkula, Hannes (1991). Suomalainen murha 1953–1990.
Rikostarinoita historiasta 27.11.2008: Jakso 3 – Uunisurma https://areena.yle.fi/1-1953272
Yle Fem / Dok 13.3.2015: Autiotalokohtaloita https://areena.yle.fi/1-2293171