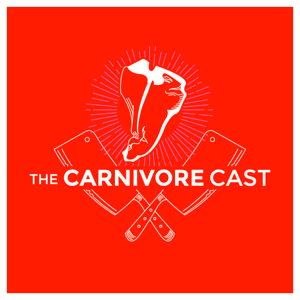 Vanessa Spina - Keto/Carnivore Pregnancy, Tone Device for Burning Fat, and Everything Protein!
01.25.2022 - By Carnivore Cast
Vanessa Spina (@ketogenicgirl) is the host of ketogenicgirl.com, a popular website loaded with ketogenic resources. Vanessa is returning the podcast for the third time today after her first episode where we discussed what inspired her and why she started Ketogenic Girl, her thoughts on restriction vs. food freedom, fasting, and more! In the second episode we talked about metabolism, cico, chronic dieting, and more. Check out those two episodes if you missed them the first time (HERE and HERE). She also hosts her own podcast, "Fast Keto" and more recently rebranded to the Optimal Protein Podcast where she interviews doctors, researchers, and keto success stories. Vanessa has helped hundreds of people lose weight and regain health through her 28-day challenges and keto meal plans. Finally, she recently had a beautiful baby boy, Luca, and launched the Tone device - is she a superwoman or what?   Vanessa makes tons of helpful, evidence-based content that she shares for free across her YouTube, Instagram, and podcasts, and shares rational perspectives about diets, mindset, body composition, and practical tips as well.   This episode is brought to you by Optimal Carnivore. Do you struggle to eat organ meat? Optimal Carnivore was created by Carnivores for Carnivores. They created a unique organ complex from grass-fed animals in New Zealand. It includes 9 different organs -  Liver, Brain, Heart, Thymus, Kidney, Spleen, Pancreas, Lung etc.  Taking 6 capsules is the same as eating an ounce of raw organ meat from the butcher. Get 10% off your order by going to https://amzn.to/3hSXXtu and using the code: carnivore10 at checkout! (currently only shipping within the US)   What questions would you like answered or who would you like to hear from in the carnivore or research community?   Let me know on Twitter, Instagram, and Facebook.