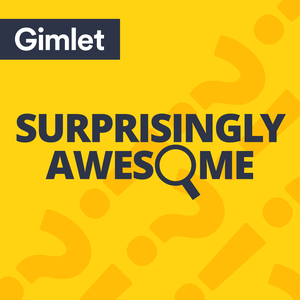 This week: It's awesome in the sacred sense - but stressful in the practical sense.
The Facts
Surprisingly Awesome's theme music is by Nicholas Britell. Our ad music is by Build Buildings.
Additional music came from Kyle Morton, Sex Life, and Xolo
We were edited this week by Annie-Rose Strasser, and produced by Rachel Ward, Christine Driscoll and Rikki Novetsky.  Our field producers were Sylvie Douglis and Nick Fountain.  
Production Assistance came from Jacob Cruz, Emily Kennedy, Melanie Kruvelis, Jessica Langley,  Sarah Melton, and Sarah Stodder.
Thank you to Meg Keene at A Practical Wedding, Erin Boll, proprietrix of the Instagram account Pisces Bride, Stevie Lane who designed our wedding invitation, and for helping us find Sue and Austin. 
Learn More
Source for the inverse relationship between the cost of weddings and duration of marriages: 'A Diamond is Forever' and Other Fairy Tales: The Relationship between Wedding Expenses and Marriage Duration. At one point this was the most downloaded paper on SSRN, the database we found it on.
Here's the link to Tamara Sniezek's paper, Is It Our Day or the Bride's Day? The Division of Wedding Labor and Its Meaning for Couples. You'll never look at invitations the same way again.
Several years ago, Slate did a great, concise post about wedding averages and how they're reported, The Wedding Industry's Pricey Little Secret.
Rebecca Mead's book is called One Perfect Day, and you can check it out at the library, like we did, or get it... you know where. (Amazon, you can buy books on Amazon.)
Our Sponsors
eero - For free overnight shipping, visit eero.com and at checkout select overnight shipping then enter "awesome" to make it free
Hello Fresh - To get $35 off your first week of deliveries visit hellofresh.com and enter promo code "AWESOME"