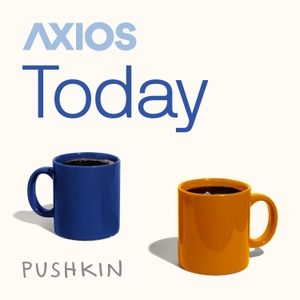 What we know about kids and COVID now
08.12.2021 - By Axios Today
Yesterday, California became the first state to require all teachers and school staff to get vaccinated or get tested weekly for COVID. In other states, like Texas and Florida, school districts are fighting state and local government to implement mask mandates for students.
All of this is happening as students are starting to go back to in-person schooling and as pediatric COVID hospitalizations are on the rise.
Plus, the Delta variant is catching up with air travel.
And, calls for better conditions for migrant teens in U.S. custody in Texas.
Guests: Axios' Joann Muller, Tina Reed, and Fadel Allassan.
Credits: Axios Today is produced in partnership with Pushkin Industries. The team includes Niala Boodhoo, Sara Kehaulani Goo, Dan Bobkoff, Alexandra Botti, Nuria Marquez Martinez, Sabeena Singhani, and Ben O'Brien. Music is composed by Evan Viola. You can reach us at [email protected] You can text questions, comments and story ideas to Niala as a text or voice memo to 202-918-4893.
Go deeper:
New COVID restrictions could slow air travel
Pediatric COVID hospitalizations soar
Lawsuit: Migrant teens in U.S. custody face "deplorable conditions" at Texas sites
Learn more about your ad choices. Visit megaphone.fm/adchoices