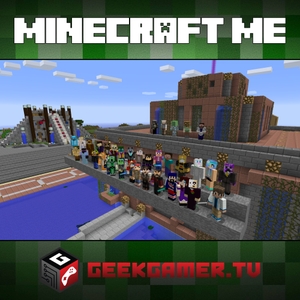 We are back!!  On this edition we chat about what has changed since we last recorded an episode….Animals!  So many new and different animals, we perform a general summary on the kinds of animals that have been added since we last played with Minecraft now at version 1.15!
Show notes and episode page here:  https://www.geekgamer.tv/minecraftme/mm194
Music: http://www.davidcuttermusic.com / @dcuttermusic
Please RATE, FOLLOW and SUBSCRIBE!
— Connect with us on Social Media —
Twitch———————http://bit.ly/ggtvtwitch
Discord——————–http://bit.ly/discordggtv
Youtube ——————-http://bit.ly/ggtvyoutube
Twitter ——————– http://bit.ly/twitterggtv
Facebook —————– http://bit.ly/ggtvfacebook
Instagram —————–http://bit.ly/ggtvinstagram
Steam Community———http://bit.ly/ggtvsteamcommunity
Hosts: Chase Nunes, Joseph Falbey
Minecraft can be found at: http://www.minecraft.net
 
GeekGamer.