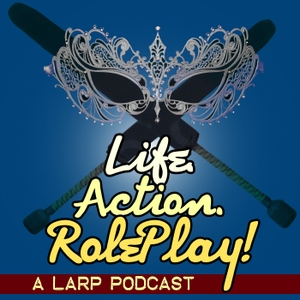 Inspired by a late night conversation that ran until 4am, we are covering the topic "Why Do We Play?" which goes into personal and philosophical discussions on the nature of play.
B. Dave Walters is a Storyteller, Geek, Motivator, and proud Scoundrel American. Dungeon Master of Theogony of Kairos and cast member of Inkwell Society on Maze Arcana, and We're Alive: Frontier on Project Alpha. Co-host of Ask Your Black Geek Friend on Geek & Sundry, and the Rundown Predator web series for Fox! He was a player in Dungeons & Dragons first livestreamed LARP, "Off The Table" at the event Stream of Many Eyes run by Ivan Van Norman and is a current player in Bruce Monach and Ryan Omega's Vampire: the Masquerade LARP as the Ventrue Primogen.
P.J. Megaw is a gamer and dork, playing D&D; since 2008 playing every edition from AD&D; to his beloved 5th edition. When he's not gaming at the table he's an avid LARPer in the California area in the LARPs Twin Mask and Vampire: the Masquerade. When he's not enjoying his favorite geeky pastimes he's an actor in film and television with years of comedic, dramatic and improv experience. You may recognize him from the stage combat vote based improv comedy show The Video Games that toured the California Comic Con circuit and just retired after a 3 year tour!