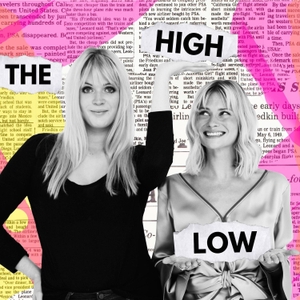 Wiley's Anti-Semitism, Kiley Reid's Such A Fun Age & An Author Special w/ Nesrine Malik
07.28.2020 - By The High Low
It's our last episode of the season - and boy, do we have a bumper episode for you. In this week's show we discuss what Twitter's failure to suspend Wiley says about our failure to combat anti-semitism (and what you can do to help), the graphic and glorious podcast of the year, Brown Girls Do It Too, Kiley Reid's incisive and compulsively readable novel Such A Fun Age and an author special with the inspiring and thought-provoking columnist and author of We Need New Stories, Nesrine Malik about why we must resist cultural myths. Plus, some newsletters to subscribe to right now, and an Ask The High Low question about dating after cancer. We'll be back in early September! 
E-mail: [email protected] (but please do note the inbox will be unmanned for August)
Tweet: @thehighlowshow
Shop: thehighlowshop.com where 100% proceeds go to charity - 50% to Black Minds Matter and 50% to Freedom Charity 
Links
Following/ signing
@geraldstratfor3 on Twitter 
Sign the petition for Wiley to have his MBE removed 
https://www.change.org/p/parliament-remove-wileys-mbe?recruiter=136977510&recruited;_by_id=853bea40-b288-0130-c64a-3c764e051fd7-23699423-en-gb%3A2
Write to [email protected] to request the removal of Wiley's MBE 
Reading
The Waiting Room, a newsletter by Amelia Tait 
https://t.co/K354wEstO1?amp=1
Sidenotes, a newsletter by Sophie Wilkinson 
https://t.co/8Tktq491Lh?amp=1
The Red Hand Files, a newsletter by Nick Cave 
https://www.theredhandfiles.com
The Meander, a newsletter by Dolly Alderton 
https://t.co/1oQyVWIXz4?amp=1
Such A Fun Age, by Kiley Reid
We Need New Stories, by Nesrine Malik
Hot Little Hands, by Abigail Ulman 
Listening/ watching 
Brown Girls Do It Too, on BBC Sounds
In Writing podcast, by Hattie Crisell
Call My Agent, on Netflix 
 See acast.com/privacy for privacy and opt-out information.