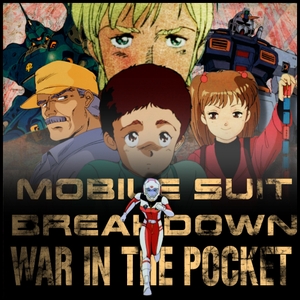 Show Notes
This week, we recap, review, and analyze Mobile Suit Zeta Gundam (機動戦士Ζガンダム) episode 18 - Mirai Captured (とらわれたミライ), discuss our first impressions, and provide commentary and research on more Gundam names: Hathaway Noa, Namicar Cornell, and Four Murasame.
- Plausible origins of the name Hathaway.
- Source for Hathaway-like medieval predecessors for Hedwig.
- Wikipedia page and IMDB page for Noah Hathaway.
- Japanese release data for the film Neverending Story.
- Wikipedia page for "Boxey" character from original Battlestar Galactica TV series.
- Sean (Flying_Grizzly)'s research connecting Battlestar Galactica to First Gundam.
- Jisho.org entries for Namika names, namikaze, and 'namikaze ga tatsu'/波風が立つ (to make waves; to rock the boat).
- Wikipedia entry for Ezra Cornell.
- JPN Wiki page for Cornell University.
- Wikipedia and Wiktionary pages for "Murasame."
- Page for the most famous of the Murasame destroyers.
- Murasame in the Final Fantasy franchise.
- Wikipedia page on Nansou Satomi Hakkenden.
- Ongoing project to translate all of the Nansou Satomi Hakkenden novel.
- Wikipedia page for the Matsukaze Noh play.
- Pages for the Matsukaze Noh play's authors: Kanami and Zeami.
- Discussions about Matsukaze from a History of Noh blog and The-Noh.com.
- Tyler, Royall. "The No Play Matsukaze as a Transformation of Genji Monogatari." Journal of Japanese Studies, vol. 20, no. 2, 1994, pp. 377–422. JSTOR, www.jstor.org/stable/133198.
- Two translations of Matsukaze, this one more readable in English and this one less so.
- Side-by-side English and Japanese text of Matsukaze Noh play (this is the one Nina reads from).
You can subscribe to the Mobile Suit Breakdown for free! on fine Podcast services everywhere and on YouTube, follow us on twitter @gundampodcast, check us out at gundampodcast.com, email your questions, comments, and complaints to [email protected]
Mobile Suit Breakdown wouldn't exist without the support of our fans and Patrons! You can join our Patreon to support the podcast and enjoy bonus episodes, extra out-takes, behind-the-scenes photo and video, MSB gear, and much more!
The intro music is WASP by Misha Dioxin, and the outro is Long Way Home by Spinning Ratio, both licensed under Creative Commons CC BY 4.0 license. Both have been edited for length.
Mobile Suit Breakdown provides critical commentary and is protected by the Fair Use clause of the United States Copyright law. Gundam content is copyright and/or trademark of Sunrise Inc., Bandai, Sotsu Agency, or its original creator. Mobile Suit Breakdown is in no way affiliated with or endorsed by Sunrise, Bandai, Sotsu, or any of their subsidiaries, employees, or associates and makes no claim to own Gundam or any of the copyrights or trademarks related to it.
Copyrighted content used in Mobile Suit Breakdown is used in accordance with the Fair Use clause of the United States Copyright law. Any queries should be directed to [email protected]
Find out more at http://gundampodcast.com