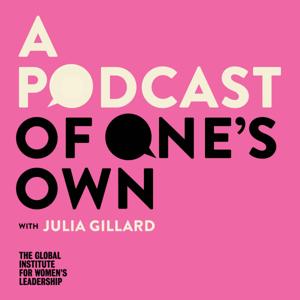 A Podcast of One's Own with Julia Gillard
By A Podcast of One's Own with Julia Gillard
What's A Podcast of One's Own with Julia Gillard about?
Former Prime Minister of Australia, Julia Gillard presents a podcast in her role as Chair of the Global Institute for Women's Leadership. In each episode Julia leads a thoughtful but fun discussion with well-known female (and some male) leaders from the worlds of business, entertainment, media, sport and many more. By celebrating their stories and learning the lessons from their lives, the podcast gives us insight into what needs to be done so more women get to lead.
Earnings from the podcast will go back into funding for the Global Institute for Women's Leadership, furthering the work they do to create a world in which being a woman is no barrier to being a leader.
Hosted on Acast. See acast.com/privacy for more information.