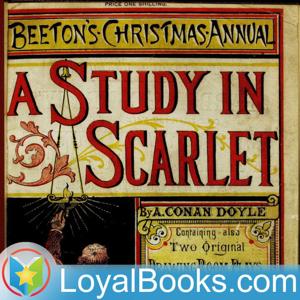 A Study in Scarlet by Sir Arthur Conan Doyle
By Loyal Books
What's A Study in Scarlet by Sir Arthur Conan Doyle about?
Sherlock Holmes fans who haven't yet read A Study in Scarlet would be delighted to discover this book in which the iconic detective makes his grand entrance into the world! From hence on, the deer stalker hat, his Stradivarius violin, the occasional descent into cocaine induced hell, the Persian slipper in which he stores his tobacco and of course, his meeting with the eternally loyal Dr. Watson and so many other details become common for generations of enthralled devotees.
Strangely enough, Sherlock Holmes' first outing went almost unnoticed in the 1887 Christmas Annual edition of Beeton's Magazine. Sir Arthur Conan Doyle was just 27 years old when he wrote the story after giving up a less than successful medical practice. He famously modeled the London sleuth on several people he knew, most notably, one of his medical school professors, Dr. Joseph Bell.
Gradually, the story gained popularity and before long, Conan Doyle was commissioned to write a sequel The Sign of the Four. He soon began churning out a stream of short stories featuring Holmes for the Strand Magazine and his fame, fortune and popularity exceeded his wildest dreams. In the decades to follow, Sherlock Holmes came to represent the definitive detective. Scotland Yard and other investigative agencies soon adopted methods employed by the eccentric genius of 221B Baker Street.
A Study in Scarlet is set in 1881. It begins with Dr. Watson, a wounded Afghan war veteran who is looking for shared lodgings in London. An old friend recommends that he try 221B Baker Street, which is presently occupied by an eccentric acquaintance, Sherlock Holmes. At their very first meeting, Holmes dazzles the company with his detective skills as he makes a casual remark about Watson's previous experiences. Watson moves in and discovers that Holmes is in fact a consulting detective. Watson accompanies Holmes on a crime scene visit and from here on, the plot takes a series of bizarre twists and turns, leading the reader through flashbacks, across various continents and different periods. We are transported to nineteenth century America, where the Mormons of Salt Lake City, Utah, play a decisive role and watch in amazement as Holmes cracks the puzzle.
A Study in Scarlet has remained a firm favorite on radio, stage, television and spawned a host of comics and abridged versions. As the debut of the most famous fictional detective, A Study in Scarlet remains unparalleled and valuable read for any fan of the author's work.
A Study in Scarlet by Sir Arthur Conan Doyle episodes: