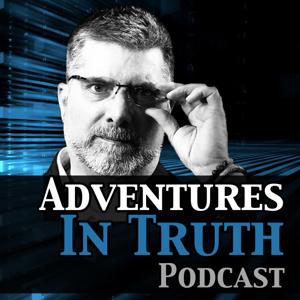 Adventures in Truth Podcast
By R. James Case
What's Adventures in Truth Podcast about?
The mission of Adventures in Truth Podcast (AiT) is to stimulate the discovery of, and tap into the true knowledge of, our Self and our unlimited potential. AiT promotes living our lives in a state of what we call Universal Truth.
In order to know who we are, we have to understand the truths/beliefs we have aligned with. This clarity leads to greater awareness of and understanding about our core beliefs. The process of knowing our true Self begins with understanding the truths/beliefs that we've learned and accepted to be true in our experience. Consistently; and paradoxically, these truths/beliefs we attach to are actually distortions of Universal Truth.
At AiT we are committed to confronting these false narratives or stories that create powerful challenges in our experience. The Deep dive format that Adventures in Truth Podcast undertakes each week up-roots those core beliefs and truths that we've become attached to. In doing so we illuminate and clarify Truth. That clarity allows us to let go of truths/beliefs that no longer serve us. Through that release of the distortions of truth we get to align with Universal Truth, and develop a better understanding of who we are and why we're here. We also experience greater and greater levels of wholeness and fulfilment.