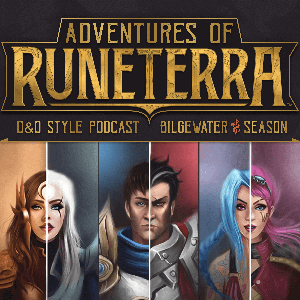 Adventures of Runeterra: League of Legends theme 5e D&D! (DnD, LoL, LoR)
By AlterNerdReality
What's Adventures of Runeterra: League of Legends theme 5e D&D! (DnD, LoL, LoR) about?
Adventures of Runeterra is a League of Legends / Legends of Runeterra inspired actual play 5e D&D podcast. Join a small group of podcast and youtubers play as "heroes" who comedically stumble through an epic adventure that leads them down an ever-unfolding path of fun, mischief, and danger! Prepare to see the League of Legends universe like never before!
"Adventures of Runeterra" was created under Riot Games' "Legal Jibber Jabber" policy using assets owned by Riot Games. Riot Games does not endorse or sponsor this project.
Adventures of Runeterra: League of Legends theme 5e D&D! (DnD, LoL, LoR) episodes: