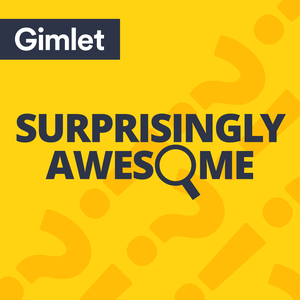 THE FACTS:
Surprisingly Awesome's Theme Music is "This is How We Do" by Nicholas Britell and our ad music is by Build Buildings. We were edited this week by Annie-Rose Strasser, Alex Blumberg, and produced by Rachel Ward, Christine Driscoll and Elizabeth Kulas. We were mixed by Andrew Dunn.
Austin Thompson mixed Matthew Boll's music. Thank you to Joe Staples. Jacob Cruz, Emma Jacobs, Tiffany Lee, Rikki Novetsky, Elah Feder, Melanie Kruvelis, and Jacqui Helbert provided production assistance.
LEARN MORE:
If you want to hear more from Tim Manley, look for his web series "The Feels," and check out his storytelling at The Moth.
Dr. Nina Kraus at Northwestern University sent us the Smoke on the Water music – you can learn more about her lab at www.brainvolts.northwestern.edu.
You can hear more of Matthew Boll at americanvacation.org and follow him on Twitter @bigbearii.
OUR SPONSORS:
Frank & Oak – Go to frankandoak.com/awesome to get your first outfit for $79 (a pair of pants and a shirt).
Lenovo – See how Lenovo is revolutionizing data center technology.
Wealthsimple – Investing made easy. Get your first $10,000 managed for free.