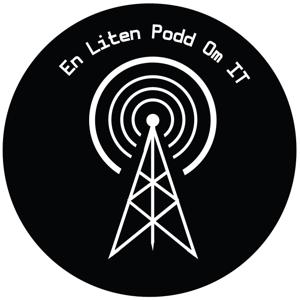 Om Shownotes ser konstiga ut (exempelvis om alla länkar saknas. Det ska finnas MASSOR med länkar) så finns de på webben här också: https://www.enlitenpoddomit.se/e/elpoit-315
 
Avsnitt 315 spelades in den MAY THE 4:TH BE WITH YOU och eftersom att meningen "The quick brown fox jumps over the lazy dog" använder alla bokstäver i det engelska alfabetet ( https://en.wikipedia.org/wiki/The_quick_brown_fox_jumps_over_the_lazy_dog) så handlar dagens avsnitt om:
INTRO:
- David är lite frustrerad på Windows, Björn har fixat altanen, Johan har haft otur och ätit en hallon-lakrits glass
FEEDBACK AND BACKLOG:
- Australien, Apple och Google appstor
https://www.thurrott.com/apple/249587/australia-takes-on-apple-and-google-apps-stores
- Björn berättar om upplevelsen med xCloud på iOS
ALLMÄNT NYTT
- David pratar om Mandalorian, säsongen 3, samt några spin-offs
  https://www.cnet.com/news/the-mandalorian-season-3-everything-we-know-disney-plus-star-wars-may-the-4th/
- No Discord for You… Only Sony
  https://www.thurrott.com/games/playstation/249753/sony-partners-with-discord-
Många kombinationer blir det  https://www.engadget.com/handshake-emoji-215658075.html
LYSSNARFRÅGA
- David har fått tips från Anna 
  https://buy.garmin.com/sv-SE/SE/p/711538
- Jan har kommenterat på Facebook kring inlägget vi gjorde om innehållsförteckning. Vill gärna se mer kring AWS, och gärna ett "veckans säkerhetstips". 
MICROSOFT
- Microsoft default font
  https://techcrunch.com/2021/04/28/microsofts-new-default-font-options-rated/
   - BONUSLÄNK: För de som av NÅN anledning bryr sig så kan man rösta här:
     https://twitter.com/Microsoft/status/1387421368581455874
- Vi har ju pratat en del om Flash
  https://www.thurrott.com/cloud/249787/microsoft-to-remove-flash-from-windows-in-july
- 1,3 miljarder enheter kör Windows 10 (Monthly active)
  https://www.zdnet.com/article/microsoft-says-windows-10-now-on-1-3-billion-monthly-active-devices/
- Och 145 miljoner DAILY active användare som kör Microsoft Teams
  https://www.zdnet.com/article/microsoft-teams-is-now-at-145-million-daily-active-users/
- Microsoft Teams: Simple Periodic review for Guest users (ASBRA!! Men licensering….)
  https://techcommunity.microsoft.com/t5/azure-active-directory-identity/access-reviews-for-guests-in-all-teams-and-microsoft-365-groups/ba-p/1994697
- Microsoft Teams: Custom Backgrounds in mobile devices - Rolling out
  https://www.microsoft.com/sv-se/microsoft-365/roadmap?rtc=1&filters;=&searchterms;=custom%2Cbackgrounds%2Con%2Cmobile%2Cdevices
  
APPLE
- Ett första utlåtande från EU - Apple bryter mot konkurrenslagstifningen
  https://swedroid.se/eu-anser-att-apple-bryter-mot-konkurrenslagstiftningen/
- Facebook och Instagram försöker vädja till användare
  https://www.engadget.com/facebook-instagram-ios-app-tracking-notices-192117307.html
  - BONUSLÄNK: Dr. Pimple Popper på Youtube
    https://www.youtube.com/channel/UCgrsF4TYwmrV0QsXb8AoeHQ
- Eftersom Apple öppnat FindMy för konkurrenter behöver man inte köpa tag från Apple
  https://www.macrumors.com/2021/04/28/chipolo-no-accessory-needed-item-tracker-ad
- Kommande Feature till AirTag
  https://www.macrumors.com/2021/05/04/airtag-uses-disappointed-family-sharing/
- Tile Klagar
  https://appleinsider.com/articles/21/05/04/tile-ceo-welcomes-competition-from-airtags-calls-apple-a-runaway-monopoly-train
GOOGLE:
- Google I/O  (18-20 Maj)
  https://events.google.com/io/?lng=en
- Nest Hub I Sverige
  https://swedroid.se/andra-generationens-nest-hub-borjar-saljas-i-sverige/
ANDRA NYHETER:
- Jätteartikel om varför det kommer vara ont om "chips" ett tag framöver
  https://www.zdnet.com/article/the-global-chip-shortage-is-a-bigger-problem-than-everyone-realised-and-it-will-go-on-for-longer-too/
ALLMÄNT TIPS:
- Unisynk, svensk mobiltelefonhållare till bilen
  https://unisynk.se/products/unisynk-dashboard-holder/
- David vill ha tips om Hur man gör animerad film'
- Johan tipsar om att man nu ska fixa "wonky Windows 10 layout" - fast de kallar det för "Rapid hotplug detect" https://www.engadget.com/microsoft-is-fixing-wonky-windows-10-layouts-on-multiple-displays-101444378.html
PRYLLISTA
- Björn:  Det har varit mycket snack om dessa: https://www.japantrendshop.com/allwhite-rubiks-cube-p-5158.html
- David:  Intous tablet: https://www.dustinhome.se/product/5011069149/intuos-pen-tablet-bluetooth-medium-blackgreen
          Lego starwars figurer: https://www.webhallen.com/se/product/315884-LEGO-Star-Wars-The-Mandalorian-The-Child-75317
- Johan:  "Instant pot" https://www.engadget.com/star-wars-instant-pots-hit-an-all-time-low-just-ahead-of-may-the-4th-104526815.html
EGNA LÄNKAR
- En Liten Podd Om IT på webben, http://enlitenpoddomit.se/
- En Liten Podd Om IT på Facebook, https://www.facebook.com/EnLitenPoddOmIt/
- En Liten Podd Om IT på Youtube, https://www.youtube.com/channel/UCf0vgNRHAzckDMyh8inuYmQ
- Ge oss gärna en recension
   - https://podcasts.apple.com/se/podcast/en-liten-podd-om-it/id946204577?mt=2#see-all/reviews 
   - https://www.podchaser.com/podcasts/en-liten-podd-om-it-158069
LÄNKAR TILL VART MAN HITTAR PODDEN FÖR ATT LYSSNA:
- Apple Podcaster (iTunes),  https://itunes.apple.com/se/podcast/en-liten-podd-om-it/id946204577
- Overcast, https://overcast.fm/itunes946204577/en-liten-podd-om-it
- Acast, https://www.acast.com/enlitenpoddomit
- Spotify, https://open.spotify.com/show/2e8wX1O4FbD6M2ocJdXBW7?si=HFFErR8YRlKrELsUD--Ujg%20
- Stitcher, https://www.stitcher.com/podcast/the-nerd-herd/en-liten-podd-om-it
LÄNK TILL DISCORD DÄR MAN HITTAR LIVE STREAM + CHATT
- http://discord.enlitenpoddomit.se
(Och glöm inte att maila [email protected] om du vill ha klistermärken, skicka med en postadress bara. :)