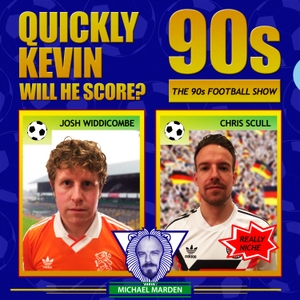 Quickly Kevin Will He Score? - S07 EP9: Did somebody say 'bonus episode'? 
A cheeky little Saturday morning bonus episode to enjoy just some of the amazing abundance of correspondence we get through (and to remind you about the live show on Sunday) where Alex Brooker will be facing off against Ivo Graham in a 90's Arsenal XI vs Steve / Barnes XI simulated on Champ Man 97/98. Yes it's exactly as great as it sounds. See you there!!
Tickets are available here;
https://www.eventbrite.co.uk/e/quickly-kevin-live-2020-qf3-ivo-graham-vs-alex-brooker-tickets-128870056809
Or are free to all Quickly Kevin XJ8 tier fan club members via; www.patreon.com/quicklykevin
Thanks,
Chris, Josh and Michael.
Twitter: @quicklykevin
Facebook:quicklykevin
Instagram: quicklykevin
Email: [email protected]
 See acast.com/privacy for privacy and opt-out information.