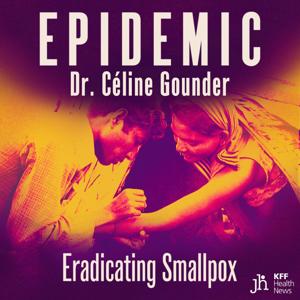 EPIDEMIC with Dr. Celine Gounder
By KFF Health News and JUST HUMAN PRODUCTIONS
What's EPIDEMIC with Dr. Celine Gounder about?
Eradicating Smallpox: The Heroes that Wiped out a 3,000-Year-Old Virus
One of humanity's greatest triumphs is the eradication of smallpox. This new eight-episode docuseries, "Eradicating Smallpox," explores this remarkable feat and uncovers striking parallels and contrasts to recent history in the shadows of the covid-19 pandemic.
Host Céline Gounder brings decades of experience working on HIV in Brazil and South Africa, Ebola during the outbreak in New Guinea, and covid-19 in New York City at the height of the pandemic. She travels to India and Bangladesh to bring never-before-heard stories from the front lines of the battle to wipe smallpox off the face of the Earth.
"Epidemic" launched in early 2020 and quickly became a key source of reporting on the rapidly unfolding coronavirus pandemic. The show premiered at No. 1 in health and fitness and No. 1 in medicine on the Apple Podcast charts.