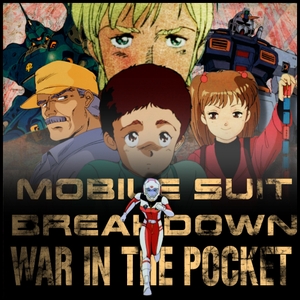 Show Notes
This week, we recap, review, and analyze Mobile Suit Zeta Gundam (機動戦士Ζガンダム) episode 22 - The Eyes of Scirocco (シロッコの眼), discuss our first impressions, and provide commentary and research on Scirocco's implement and corporal punishment in Zeta, the history of vending machines, and a follow-up on last week's research on Saint Miki.
- Roman centurion's vine staff (or vitis, plural vites).
- Its descendant, the swagger stick.
- An 1869 treatise of staggering length and breadth on the history of corporal punishment:
Cooper, William M. The History of the Rod: Flagellation and Flagellants in All Countries from the Earliest Period to the Present Time. Kegan Paul (1869).
And on the Japanese Context:
Drea, Edward J. In the Service of the Emperor: Essays on the Imperial Japanese Army. U. of Nebraska (2003).
- Japanese Wikipedia page on soldiers and training, including notes on Imperial Japanese Army and Navy policies on hazing.
Miller, Aaron L. Discourses of Discipline: An Anthropology of Corporal Punishment in Japan's Schools and Sports. Institute of East Asian Studies, UC Berkeley (available here).
Yoneyama, Shoko. The Japanese High School: Silence and Resistance. Routledge (2012).
- A WW2 era US Army translation of an internal Japanese Army report on the state of discipline and morale in the army.
- Blog post republishing a Mainichi Japan article from November 2009 about the Totsuka Yacht School, and talking about the relationship between hierarchical power and violence.
- Japan Times article about corporal punishment in Japanese sports, and its interconnection with popular media including anime, as well as the attitudes among many older Japanese people that corporal punishment is an essential component of masculinity.
- Japanese page on the 軍人精神注入棒 Military Spirit Instillation Rod (or the Soldierly Spirit Injection Stick).
- Bon Appetit article on the history of vending machines, (includes images of patent drawings) and another brief history with examples of unusual vending machines.
- Description of Heron Alexandrinus' holy-water dispensing machine (and some other miscellaneous details about the vending machine industry).
- History of the Automat (restaurant where all food was purchased from vending machines).
- Wikipedia page on vending machines (history portion is not very detailed but has useful statistics on vending machines in Japan and sections on different types of vending machines).
- History and context for vending machines in Japan.
- Burger vending machines (FEBO in the Netherlands is an example of an automat).
You can subscribe to the Mobile Suit Breakdown for free! on fine Podcast services everywhere and on YouTube, follow us on twitter @gundampodcast, check us out at gundampodcast.com, email your questions, comments, and complaints to [email protected]
Mobile Suit Breakdown wouldn't exist without the support of our fans and Patrons! You can join our Patreon to support the podcast and enjoy bonus episodes, extra out-takes, behind-the-scenes photo and video, MSB gear, and much more!
The intro music is WASP by Misha Dioxin, and the outro is Long Way Home by Spinning Ratio, both licensed under Creative Commons CC BY 4.0 license. Both have been edited for length.
Mobile Suit Breakdown provides critical commentary and is protected by the Fair Use clause of the United States Copyright law. Gundam content is copyright and/or trademark of Sunrise Inc., Bandai, Sotsu Agency, or its original creator. Mobile Suit Breakdown is in no way affiliated with or endorsed by Sunrise, Bandai, Sotsu, or any of their subsidiaries, employees, or associates and makes no claim to own Gundam or any of the copyrights or trademarks related to it.
Copyrighted content used in Mobile Suit Breakdown is used in accordance with the Fair Use clause of the United States Copyright law. Any queries should be directed to [email protected]
Find out more at http://gundampodcast.com