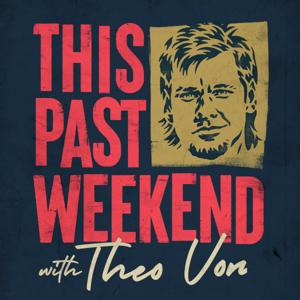 John Crist is an American comedian from Lilburn, Georgia. Theo talks with John about what it was like coming up as a Christian comedian, they tell their first childhood Playboy stories and discuss the most important things they each took with them from being in rehab.
Subscribe to John's YouTube! https://www.youtube.com/johnbcrist
Tickets for John Crist's "Fresh Cuts Comedy Tour" - https://johncristcomedy.com/calendar/
New Tour Dates! Get Your Tickets Today! https://theovon.com/tour
Merch! https://theovonstore.com
Podcastville mugs and digital prints available now at https://theovon.pixels.com
Music: "Shine" - Bishop Gunn https://www.youtube.com/watch?v=F3A_coTcUek
 Support our Sponsors:
AcreGold: https://getacregold.com/theo
The Zebra: https://thezebra.com/theo
BlueChew: https://bluechew.com  promo code THEO
Keeps: https://keeps.com/theo
 Submit your funny videos, TikToks, questions and topics you'd like to hear on the podcast to [email protected]
Hit the Hotline 985-664-9503
Video Hotline for Theo Upload here: http://bit.ly/TPW_VideoHotline
Find Theo: Website: https://theovon.com
Instagram: https://instagram.com/theovon
Facebook: https://facebook.com/theovon
Facebook Group: https://facebook.com/groups/thispastweekend
Twitter: https://twitter.com/theovon
YouTube: https://youtube.com/theovon
Clips Channel: https://www.youtube.com/channel/UCiEKV_MOhwZ7OEcgFyLKilw
Producer: Nick Davis https://instagram.com/realnickdavis
Producer: Sean Dugan https://www.instagram.com/SeanDugan/ 
See omnystudio.com/listener for privacy information.